Daily Darshan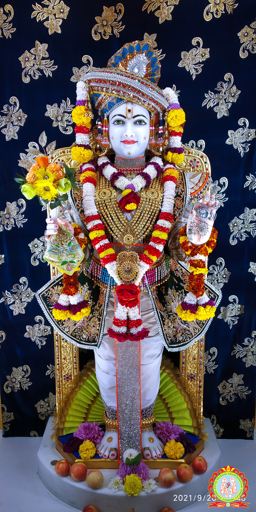 Opening times
| | Opening times | Aarti Time |
| --- | --- | --- |
| Mon - Sun [Morning] | 6:30-11:30 AM | 9:30 AM |
| Mon - Fri [Evening] | 3:30-8:00 PM | 6:00 PM |
| Saturday [Evening] | 3:30-8:00 PM | 5:45 PM |
| Sunday [Evening] | 3:30-8:00 PM | 4:30 PM |
Prathna Sabhas are held every Sarurday between 5:00-6:00 PM
Sunday with Thakarthali and Festival Days with Special Evening Prayers the Aarti time is 7:30PM
Please note that on festival days the times may vary. Please contact the Temple if you need more information
Shikshapatri Shlok 119
In the event of calamity through God, human beings or epidemic sickness, one should try to take precautions to save oneself and others, but should not behave in such a manner which could result in adverse consequences. |119|

અને કષ્‍ટની દેનારી એવી કોઇ દેવ સંબંધી આપદા આવી પડે તથા રોગાદિક આપદા આવી પડે તેને વિષે જેમ પોતાની ને બીજાની રક્ષા થાય તેમ વર્તવું, ,પણ બીજી રીતે ન વર્તવું. |૧૧૯|
Read More
Calendar
Tuesday, 28th of September

Kalashtmi

Saturday, 2nd of October

Indira Ekadashi Fast

Wednesday, 6th of October

Shradh Ends

Thursday, 7th of October

Navratri Begins

Friday, 8th of October

HH 1008 Acharya Shree Koshalendra Prasadji Maharaj - Gadi Abhishek

Wednesday, 13th of October

Saraswati Poojan
More events
25th Utsav Cultural Event Sign Up
Jay Shree Swaminarayan,
With our Ghanshyam Maharajs big 25th just months away - cultural event planning is well and truly underway! And we'd like as many of you involved as possible!
Whether you'd like to teach, dance, have a bit of fun with acting, help backstage or behind the scenes - there's something for everyone!
Get involved by filling out the quick form below and we'll contact you with more information
Gents - Click here
Ladies - Click here
Deadline to register: Wednesday 15th September 2021
For any further queries please email utsav@sksst.org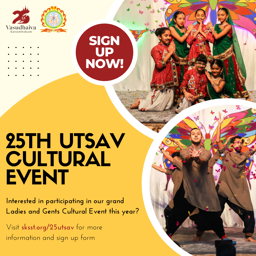 Giving Back
Jay Shree Swaminarayan,
September 2021 is all about Giving Back to the elderly - keep an eye out for all the different activites we have going on. Our elders are the firmest believers, motivators and supporters.
Simply register an elderly relative (65+) for a treat box by Sunday 12th Sept on www.sksst.org/givingback and collect it from the ladies side entrance on the dates/times below:
Friday 17th Sept - 4pm-5pm
Saturday 18th Sept - 10:30am-11:30am
For any further queries, email utsav@sksst.org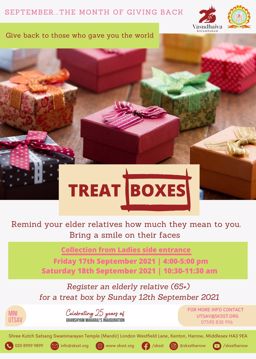 Mini Trikon Trifecta
Jay Shree Swaminarayan,
BACK BY POPULAR DEMAND!
With our Trikon Trifecta being a great success earlier in the month, we'd like to thank all participants for your cooperation and heartfelt kind feedback.
SKSS Temple are proud to present the 'MINI Trikon Trifecta Challenge'. An event organised specially for you and your families where you can still RUN / WALK / CYCLE and help us achieve our August month target of 25,000 miles. All ages are welcome to take part in some Sunday family fun. See the poster for more details.
With limited spaces, use the link below to book your spaces. Warning: they will disappear fast!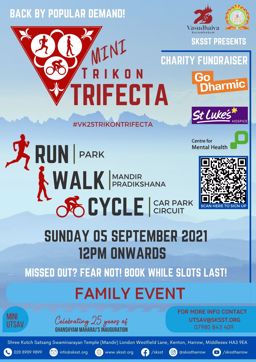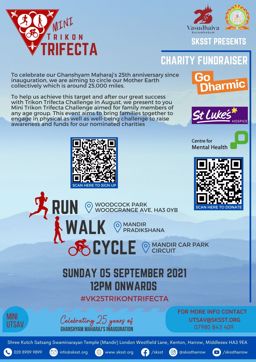 SSYM Sunday
Jay Shree Swaminarayan,
Our Sunday Bal Mandal is back!
A place where many of our temple youth have taken their first steps in Satsang and made memories they will cherish forever.
We are calling all children aged 5 and above who wish to find their feet in spirtuality. Bal Mandal is full of fun activities and group based learning.
Join us from 9:30am for Aarti in Mandir then in the Education Building where you can fill out a registration form and enjoy the learning thereafter.
We look forward to welcoming you all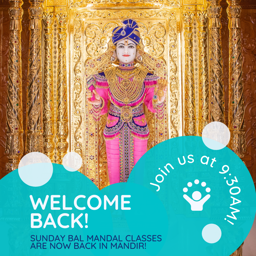 Janmasthmi 2021
Jay Shree Swaminarayan,
'Yada Yada Hi Dharmasya, Glanirva Bhavathi Bharatha, Abhyuthanam Adharmaysya, Tadatmanam Srijami Aham. Praritranaya Sadhunam, Vinashaya Cha Dushkritam, Dharamasansthapnaya, Sambhavami Yuge-Yuge.'
'Whenever, O descendant of Bharata, righteousness declines and unrighteousness prevails, I manifest Myself. For the protection of the righteous and the destruction of the wicked, and for the establishment of religion, I come into being from age to age.' Krishna Bhagwan to Arjuna - Bhagvad Gita 4 - 7/8
Join us tomorrow to celebrate the appearance and life of Bhagwan Shree Krishna on the auspicious day of Janmashtami. Please see the poster for darshan times and the evening itinerary.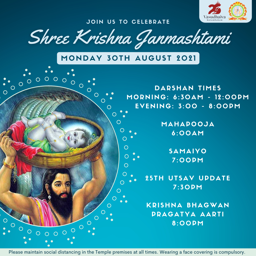 The Treasure Within
Jay Shree Swaminarayan,
Whose ready to find THE TREASURE WITHIN?
Though the pandemic may have derailed many plans across the world .... The SKSST wheels are still going and we're here to welcome you onboard to the spiritual train to Maharaj's 25th Anniversary with the BIGGEST event of the summer.
An event full of love, learning, fun and laughter! We'd hate for you to miss it.
So go on, what are you waiting for! SAVE THE DATES AUG 27-29 in your calendars and sign up by clicking here
An event so special there are a limited number of spots available! Sign up NOW to avoid disappointment.
We'll see you on the other side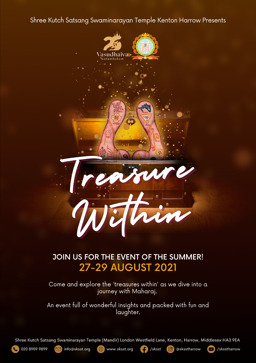 ANNUAL GENERAL MEETING
Shree Kutch Satsang Swaminarayan Temple (London) Kenton, Harrow's Annual General Meeting will be held on
SUNDAY 1st AUGUST 2021 AT 4:00PM. (subject to Government guidance on gatherings)
All ladies and gents satsangi members are requested to attend the meeting.
AGENDA
Last meeting minutes.
Reports from trustees.
Annual accounts, budgets, reports and approvals.
One Trustee position election for the period 2021-2023 (nomination form available from Kothar)
Executive Committee Election for the year 2021-2022.
Any other business, with the permission of the president.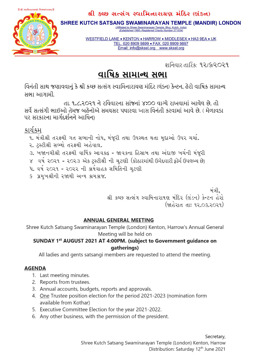 COVID-19 IMPORTANT UPDATE
Jay Shree Swaminarayan,
We are happy to announce that as we begin to come out of the national lockdown and as per the Government guidelines, the temple will now be open in both the morning and evening with socially distanced seating arrangements.
The opening times will be as follows:
Mornings: 7am-11am
Evenings: 4pm-7:30pm
Safety measures set out by our temple will be mandatory when visiting.