Jay Shree Swaminarayan,
The 25th Utsav is almost here and preparations are underway! As you'd know a lot of seva will be needed during the Utsav and there are many areas where you can offer your service! Sign up using the button below and look out for more information! For those who have already signed up you will be hearing very soon from the departments!
Sign Up Now
Daily Darshan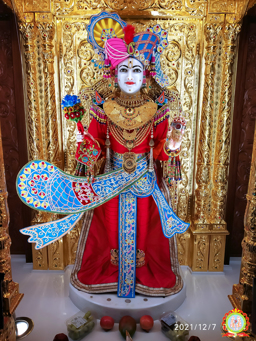 Opening times
| | Opening times | Aarti Time |
| --- | --- | --- |
| Mon - Sun [Morning] | 6:30-11:30 AM | 9:30 AM |
| Mon - Fri [Evening] | 3:30-8:00 PM | 6:00 PM |
| Saturday [Evening] | 3:30-8:00 PM | 5:45 PM |
| Sunday [Evening] | 3:30-8:00 PM | 4:30 PM |
Prathna Sabhas are held every Saturday between 5:00-6:00 PM
Sunday with Thakarthali and Festival Days with Special Evening Prayers the Aarti time is 7:30PM
Please note that on festival days the times may vary. Please contact the Temple if you need more information
Shikshapatri Shlok 110
With Arjun, Lord Shree Krishna is known as Nar-Narayan. When he is with Balbhadra and other such devotees he is to be known according to the company of the various devotees. |110|

અને એ શ્રીકૃષ્‍ણ જે તે અર્જુને યુકત હોય ત્‍યારે શ્રી નરનારાયણ એવે નામે જાણવા અને વળી તે શ્રીકૃષ્‍ણ જે તે બલભ્દ્રાદિકને યોગે કરીને તે તે નામે કહેવાય છે એમ જાણવું. |૧૧૦|
Read More
Calendar
Tuesday, 14th of December

Gita Jayanti
Mokshda Ekadashi Fast

Wednesday, 15th of December

Sadguru Shree Ramanand Swami's Swadham Leela

Thursday, 16th of December

Dhanurmaas Starts

Saturday, 18th of December

Datatrey Jayanti

Sunday, 19th of December

Mukutotsav Poonam
More events
Health Check - Promote Healthy Living
Jay Shree Swaminarayan,
Health checks are here! And what better time than the cold winter months to get one!
Sunday 19th December
10:30-15:00
Shree Swaminarayan Kutch Satsang Temple - Kenton in Nilkanth Hall

The health check will cover health readings, pop up information stalls, various talks as well as a small workshop for the kids to be doctors for the day!

Bring a list of your medication with you on the day!

Please note that these health checks are only being provided for those who are aged 18 and above.

Click here to Sign Up For A Health Check and for more information.

#FreeHealthChecks #BloodPressure #Hypertension #Diabetes #BreastCancerAwareness #MentalHealthTalks#CardiovascularHealth #ProstateCancerTalks #AutismAwareness #KidsHealthEducationZone #Cholesterol #GlucoseCheck #BMIChecks #VK25 #VasudhaviaKutumbakam #TheWorldIsOnlyFamily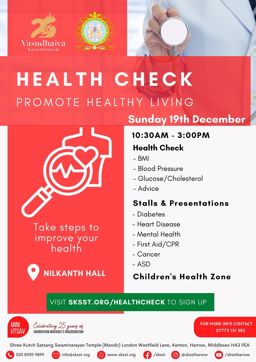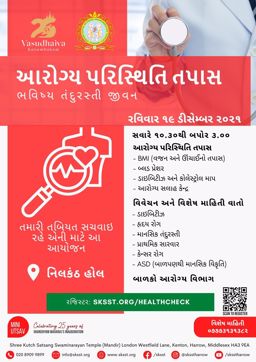 25th Utsav Yajman Registation
Jay Shree Swaminarayan,
25th Utsav Yajman Registation!
Typically, when a Temple celebrates a big Utsav, different Yajman Sevas are available, all with various price tags and usually the wealthy get this opportunity. However, our 25th Utsav is about everybody and this year, we have decided to keep a nominal figure of £251 for a Yajman and everybody will be valued the same, and you will have the opportunity to contribute towards all items.
Your Yajman pledge would go towards items listed below, but not limited to:
Airline tickets for Santos and Dharmakul
Daily Mahaprashad
Ankoot during the 1st of January
Gifts for Cultural Show, Band & Lazium and Yuvak Mandal Participant
Flowers used during the Utsav
Imagine that, you can become a Yajman and contribute towards all of this in our Grand Utsav, and more so group together with friends and family to contribute towards your pledge!
To register your interest visit sksst.org/yajman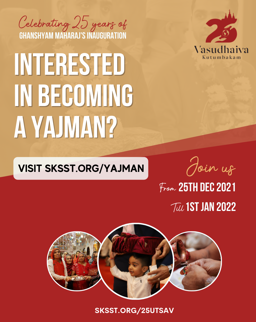 SKSS Temple Diwali 2021 Guidance
Jay Shree Swaminarayan,
For more information on SKSS Temple's Diwali 2021 Guidance. Please See the Images above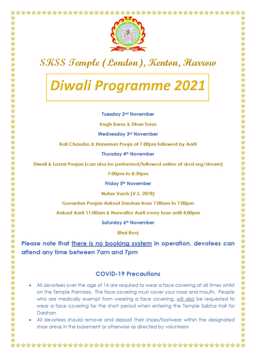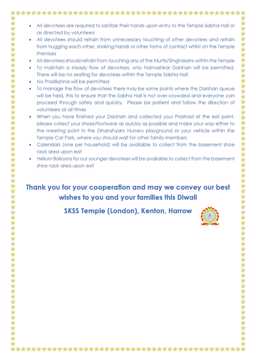 Laxmi Poojan
Jay Shree Swaminarayan,
On the momentous occasion of Diwali, we will be holding a Laxmi Poojan in the mandir from 7pm. For those partaking in the pooja at Mandir, the poojan items will be provided. Please bring the murti's, account book(s) and a red pen.
You are also able to join in the Poojan from home by joining us virtually. For those joining us virtually, the poojan packs can be collected from the Mandir today and tomorrow or you can refer to the poster for a list of the items required.
Finally, if you are joining us virtually, please have a printed copy of the sheet (second image) as it will be required in the poojan.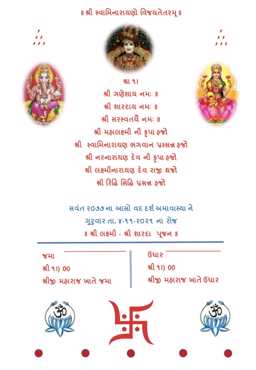 Diwali 2021
Diwali also known as the 'festival of lights', is a five day festival which starts on Dhanteras, followed by Kaali Chaudas, Diwali, New Years Day and ends on Bhaibeej.
Click here to read more about the celebrations of Diwali.
Click on the poster for more details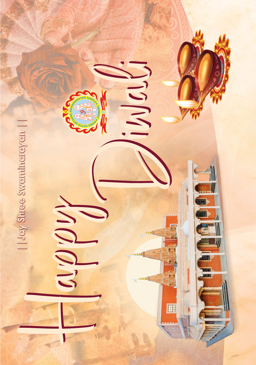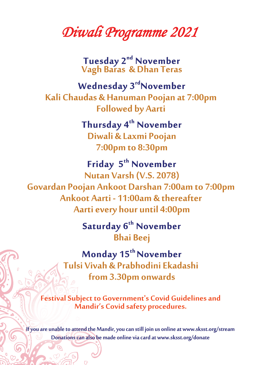 Diwali Volunteering Opportunity
Jay Shree Swaminarayan.
Ahead of the upcoming Diwali celebration, there are many seva opportunities available including Kitchen, Decoration, Maintenance prior to the festival, and on the day of Ankoot/New Years (Friday 5th November 2021). If interested please contact 07943411439.
Flu Jab
Jay Shree Swaminarayan,
We'll be providing free flu jabs at the temple for over 18's!
- Sunday 24th October
- 11am - 2pm
- Shree Kutch Swaminarayan Temple, Kenton in Ghanshyam Hall
Dont forget your NHS number and GP details!
#FluJabs #FluVaccine #Immunisation #ProtectingOthers #ProtectYourself #FluSeason #GetVaccinated #HarrowFluJabs #VasudhaviaKutumbakam #TheWorldIsOneFamily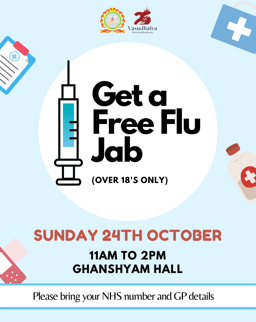 25th Utsav Cultural Event Sign Up
Jay Shree Swaminarayan,
With our Ghanshyam Maharajs big 25th just months away - cultural event planning is well and truly underway! And we'd like as many of you involved as possible!
Whether you'd like to teach, dance, have a bit of fun with acting, help backstage or behind the scenes - there's something for everyone!
Get involved by filling out the quick form below and we'll contact you with more information
Gents - Click here
Ladies - Click here
Deadline to register: Wednesday 15th September 2021
For any further queries please email utsav@sksst.org