Daily Darshan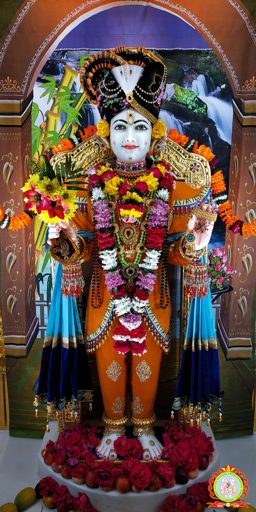 Opening times
| | Opening times | Aarti Time Online |
| --- | --- | --- |
| Mon - Sun [Morning] | 7-11 AM | 9:30 AM |
| Mon - Fri [Evening] | CLOSED | 6:00 PM |
| Saturday [Evening] | CLOSED | 5:45 PM |
| Sunday [Evening] | CLOSED | 4:30 PM |
Shikshapatri Shlok 206
Those of my male and female devotees who follow this SHIKSHAPATRI shall attain the ultimate four desires Dharma (Virtue), Arth (Wealth), Kam (Pleasure) and Moksh (Salvation). |206|

અને જે અમારા આશ્રિત પુરુષ ને સ્‍ત્રીઓ તે જેતે આ શિક્ષાપત્રી પ્રમાણે વર્તશે તો તે ધર્મ, અર્થ, કામ અને મોક્ષ એ ચાર પુરુષાર્થની સિદ્ધિને નિશ્ર્ચેય પામશે. |૨૦૬|
Read More
Calendar
Sunday, 20th of June

Shree Sahajanand Swami Swadham Leela

Monday, 21st of June

Nirjala Ekadashi Fast

Thursday, 24th of June

Mukutotsav Poonam
Jaal Yatra

Sunday, 27th of June

Sankasht Choth

Friday, 2nd of July

Kalashtmi
More events
Financial Wellbeing Webinar
Jay Shree Swaminarayan
So far this month, we have kicked off a Surya Namaskar challenge as well as having activities for Kids. But don't worry adults, we have plenty for you to engage with.
Whether you are just starting a career, at the peak of the professional development or thinking about retiring, your financial wellbeing is of utmost importance.
Using the example of a typical family as a case study, we will delve deep into their possible future and what would need to be considered. It could be having kids, thinking about life insurance, asset transfer from abroad or even thinking about writing a will. Our panel of professionals have it all covered! Want to meet them? Look no further...
Join us on Saturday 12th June 2021 from 7:30-9:30pm using our link sksst.org/wellbeing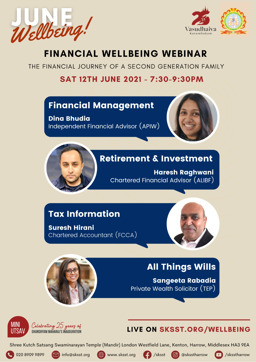 Solar Eclipse
Jay Shree Swaminarayan!
An Eclipse will take place in the UK on Thursday 10th June from 10:07AM to 12:25PM.
Please have a look at the poster for details on when you should stop eating and the exact timings of the eclipse.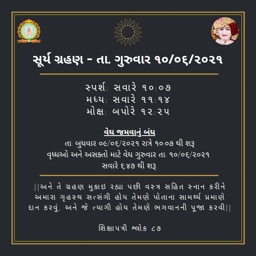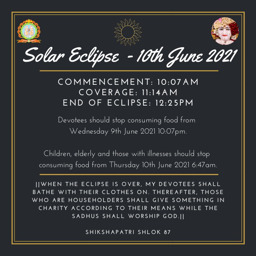 Virtual Maha Pooja
Jay Shree Swaminarayan,
As many countries struggle with the devastating impacts of Covid, we've arranged a Mahapooja to offer our collective prayer to all affected families during these difficult times.
Join us on Sunday 6th June 2021 at 7AM on our stream
Items you will need :
Own pooja set (including asans, murtis, and puja clothing)
Mahapooja yantra (if available otherwise white cloth on patlo)
500ml Panchamrut (dudh, dhai, ghee, madh, sakar) (combination of milk, yogurt, ghee, honey, sugar)
Pooja powders (abil, gulal, sindhur, haidar, kumkum, chandan)
500g Chokha (rice)
Handful of Tulsi patra
7 pieces Nagarvel paan
Nariyal
Handful of Flower petals (and haar if available)
Roll of Nada chadi
About 20 Sopari
2 Kalashs, and a few: cups, small bowls, spoons, tissues
1 Divo
1 Aarti and ghanto (bell)
1 Pako Thal and mukhvas items (a spoon of: elchi, laving, and sopari)
A small bowl of: kaju, badam, pista, dhraksh (raisins), sakar
2 pieces of fruit each
Pooja item packs will also be available to pick up from the outside Mandir Kothar between 7am-11am daily.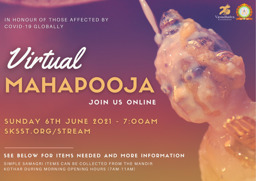 Express Yourself & Children Activities
Jay Shree Swaminarayan
This June, we are calling all kids to get their creative hats our and express yourselves and get involved in our children's activities this half-term!
Over the course of the month, we want all children to show us how they express themselves. Show us by uploading your videos and making sure to use the hashtag #SKSSTEXPRESSYOURSELF. Alternatively, you can e-mail your photos or videos of how you express yourself to utsav@sksst.org with name and age!
During this half-term week, we will also be hosting online workshops. Join us online via sksst.org/kids on the dates below
Arts & Craft -Tuesday 1st June (4-5PM) -(See items required below)
Box (Cardboard/Shoe Box)
Scissors
Glue (PVA/Glue Stick)
String
Paper/Card
Tape (Clear/Masking)
Optional Items include decorative materials i.e glitter, colouring pencils, felt tips, paint brushes, lolly sticks etc.
Dance Workshop - Thursday 3rd June (4-5PM)
It's important to remember that being able to express yourself is not about being the best at something. It is about finding a way to show who you are, and how you see the world, that can help you feel good about yourself.
We look forward to all children getting involved this month!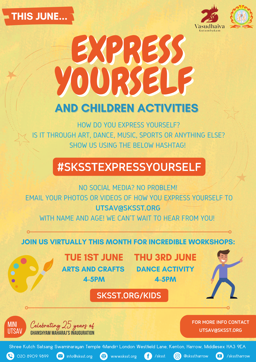 Virtual Musical Talent Show
Jay Shree Swaminarayan,
We're calling ALL fellow musicians to take part in our virtual musical talent show! No matter where in the world you are, we want to see it!
Just ensure you follow the rules on the poster above! The final submission deadline is on Friday 21st May and our show will go live on Saturday 29th May at 8pm sharp!
We look forward to seeing yours!
#ConnectedThroughSound #GrowingTogether #TalentAndSkills #LiveLearnInspire #PowerOfSound #StrongerTogether #SpreadLight #VirtualChallenge #KirtanBhakti #IndianCulture #VasudhaivaKutumbkam #TheWorldIsOneFamily #VK25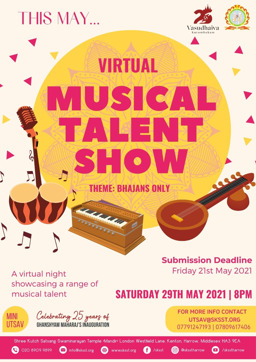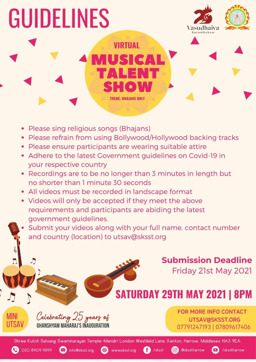 Food Bank
Jay Shree Swaminarayan,
In collaboration with Go Dharmic, we will be collecting basic necessities every weekend to help those who are in need of these everyday items which we easily take for granted. Together we can help those less fortunate than us and make a difference
"The smallest act of kindness is worth more than the grandest intention" - Oscar Wilde
Download the Go Dharmic app from the App Store if you would like to learn more about their campaigns and how you can get involved!
Love all. Feed all. Serve all.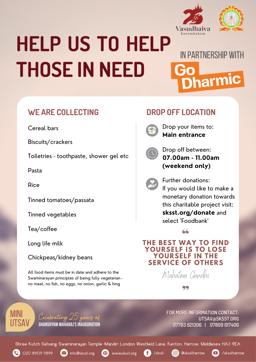 Janmangal Namavali Recital
Jay Shree Swaminarayan,
Whilst our restrictions have begun to lift here in the UK, there are still so many families that are being affected by COVID-19 around the world
We will be holding an hour long recital of the Janamangal Namavali every Sunday this month from 11am-12pm via our livestream
Join us from this Sunday as we pull together yet again through the power of prayer - one world, one family.
#BetterTogether #OneWorldOneFamily #ThePowerOfPrayer #VasudhaivaKutumbakam #TheWorldIsOneFamily
Family Art Attack
Jay Shree Swaminarayan!
Another month, another mini-utsav leading up to our grand 25th Utsav Celebrations this year!
Firstly, we'd like to thank you ALL for partaking in the Das Lakh challenge where we saw hundreds of people from around the world boosting their physical and spiritual wellbeing! We've not closed off this challenge just yet, so lets give the next few weeks EVERYTHING WE'VE GOT!
This month, we would like to introduce the 'Family Art Attack' activity with prizes to win for all participants not only in the UK, but worldwide!
It's now time for you and your family to get your creative armour on and build an architectural structure using recycled items only! It can be a Mandir, a famous landmark, a monument or a creation of your own!
Please see the full poster attached for more information on this months challenge!
#MiniUtsav #OneWorldOneTeam #LiveToServe #UnityIsPower #BhaktiYog #VibrateHigher #ThrivingTogether #GreenLiving #ConciousLiving #SustainableLiving #OneStepAtATime #LiveLearnInspire #GetInvolved #VasudhaivaKutumbakam #VK25