Daily Darshan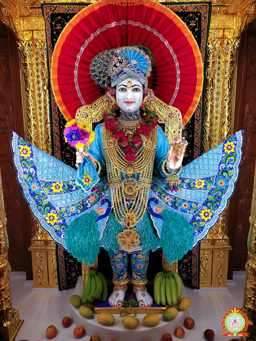 Opening times
| | Opening times | Aarti Time Online |
| --- | --- | --- |
| Mon - Sun [Morning] | 7-11 AM | 9:30 AM |
| Mon - Fri [Evening] | CLOSED | 6:00 PM |
| Saturday [Evening] | CLOSED | 5:45 PM |
| Sunday [Evening] | CLOSED | 4:30 PM |
Shikshapatri Shlok 185
The Naishtik Brahmcharis shall study Vedas, Shastras and serve his guru. He shall always avoid the company of males having female attitudes or attractions, just like he avoids contact with women. |185|

અને તે નૈષ્ઠિક બ્રહ્મચારી તેમણે વેદશાસ્‍ત્રનો અભ્‍યાસ કરવો ને ગુરુની સેવા કરવી ને સ્‍ત્રીઓની પેઠે સ્‍ત્રૈણ પુરુષનો સંગ જેતે સર્વકાળે તજવો. |૧૮૫|
Read More
Calendar
Friday, 14th of May

Akshay Trutiya
Parshuram Jayanti

Monday, 17th of May

Ramanuj Jayanti

Wednesday, 19th of May

Ganga Poojan

Sunday, 23rd of May

Rukmani Baras
Mohini Ekadashi Fast
More events
Virtual Musical Talent Show
Jay Shree Swaminarayan,
We're calling ALL fellow musicians to take part in our virtual musical talent show! No matter where in the world you are, we want to see it!
Just ensure you follow the rules on the poster above! The final submission deadline is on Friday 21st May and our show will go live on Saturday 29th May at 8pm sharp!
We look forward to seeing yours!
#ConnectedThroughSound #GrowingTogether #TalentAndSkills #LiveLearnInspire #PowerOfSound #StrongerTogether #SpreadLight #VirtualChallenge #KirtanBhakti #IndianCulture #VasudhaivaKutumbkam #TheWorldIsOneFamily #VK25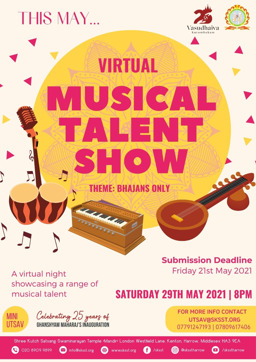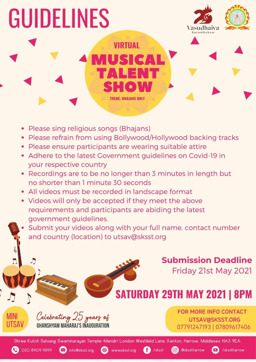 Food Bank
Jay Shree Swaminarayan,
In collaboration with Go Dharmic, we will be collecting basic necessities every weekend to help those who are in need of these everyday items which we easily take for granted. Together we can help those less fortunate than us and make a difference
"The smallest act of kindness is worth more than the grandest intention" - Oscar Wilde
Download the Go Dharmic app from the App Store if you would like to learn more about their campaigns and how you can get involved!
Love all. Feed all. Serve all.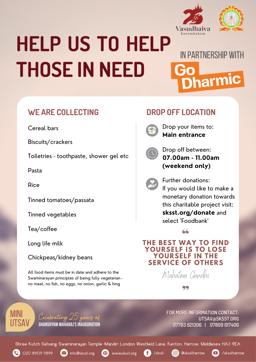 Janmangal Namavali Recital
Jay Shree Swaminarayan,
Whilst our restrictions have begun to lift here in the UK, there are still so many families that are being affected by COVID-19 around the world
We will be holding an hour long recital of the Janamangal Namavali every Sunday this month from 11am-12pm via our livestream
Join us from this Sunday as we pull together yet again through the power of prayer - one world, one family.
#BetterTogether #OneWorldOneFamily #ThePowerOfPrayer #VasudhaivaKutumbakam #TheWorldIsOneFamily
Family Art Attack
Jay Shree Swaminarayan!
Another month, another mini-utsav leading up to our grand 25th Utsav Celebrations this year!
Firstly, we'd like to thank you ALL for partaking in the Das Lakh challenge where we saw hundreds of people from around the world boosting their physical and spiritual wellbeing! We've not closed off this challenge just yet, so lets give the next few weeks EVERYTHING WE'VE GOT!
This month, we would like to introduce the 'Family Art Attack' activity with prizes to win for all participants not only in the UK, but worldwide!
It's now time for you and your family to get your creative armour on and build an architectural structure using recycled items only! It can be a Mandir, a famous landmark, a monument or a creation of your own!
Please see the full poster attached for more information on this months challenge!
#MiniUtsav #OneWorldOneTeam #LiveToServe #UnityIsPower #BhaktiYog #VibrateHigher #ThrivingTogether #GreenLiving #ConciousLiving #SustainableLiving #OneStepAtATime #LiveLearnInspire #GetInvolved #VasudhaivaKutumbakam #VK25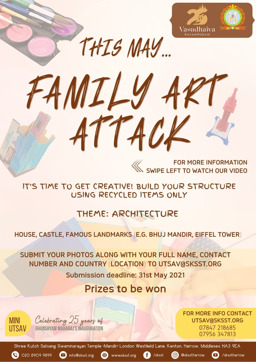 Ramnavmi/Swaminarayan Jayanti
Jay Shree Swaminarayan,
Join us on Wednesday 21st April 2021 as we celebrate Ramnavmi and Swaminarayan Jayanti. Ramnavmi (Chaitra Sud Navmi) is one of the most auspicious days in the Hindu calendar where we celebrate the birth of Lord Shree Ram and Lord Shree Swaminarayan, both whom arrived on the Earth to establish righteousness.
Midday marked the arrival of Lord Shree Ram who was born in the city of Ayodhya to King Dasharath and Queen Kaushalya. At 10pm in the village of Chhapaiya, Lord Shree Swaminarayan was born to Dharmadev and Bhaktimata.
Mandir will be open for standing darshan only, please see timings below;
Morning - 7AM to 12PM, followed by Ram Bhagwan's Pragatya Aarti
Evening - 6PM to 8PM, followed by Swaminarayan Bhagwan Pragatya Aarti
Please ensure to wear a face mask when entering the Mandir and follow all social distancing measures in place.
You can also enjoy the celebrations online by tuning into our live stream via sksst.org/stream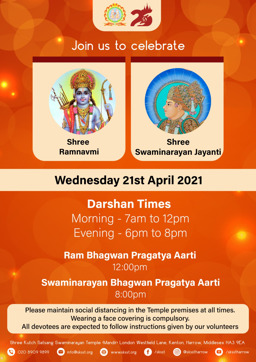 COVID-19 IMPORTANT UPDATE
Jay Shree Swaminarayan!
It is with great joy that we can announce that our temple will be opening from tomorrow; Monday 19th April.
Just like last time, the temple will only be open 7am - 11am. Please see the attached letter for more detailed information on social distancing, facial coverings and further guidelines.
Please kindly inform all your friends and family. We thank you for your continued support during these times.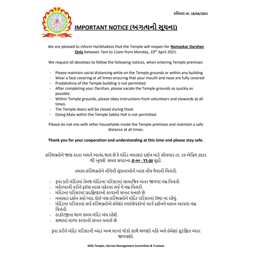 Shibir 2021 - Be The Impossible
Jay Shree Swaminarayan,
Given the circumstances and the uncertainty of the current situation, SKSS Temple Kenton Harrow has decided to cancel this years Shibir.
We know many of you were looking forward to the event and after trying every route to ensure its success, the health and safety of our haribhaktos is paramount and hence the decision has been made to cancel the event.
We apologise for any inconveniences and disappointment. In the meantime, enjoy the plenty of activities we have for you in relation to our 25th Utsav.
Stay safe and stay well.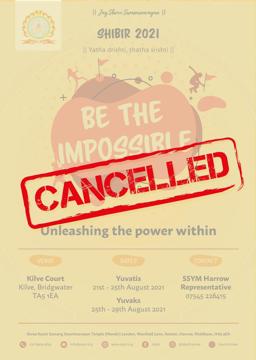 Das Lakh
Jay Shree Swaminarayan,
This month we're focusing on our bhakti and feeling instrictly and physically one with our beloved Ghanshyam Maharaj. We want the power and purity of Bhakti to shine across the world and of course, this isn't something we can do alone.
We're calling ALL Mandirs across the globe to join us! Though we may be separated geographically, we are connected by ONE and for His 25th, we're showing up for Him together, as ONE family.
We've made this as fast and simple as possible for you all! Just choose which niyam you'd like to pour your heart into for our Ghanshyam Maharaj. This could be 1, 2, 3 or all! Then fill your bhakti on satsang.sksst.org/MiniUtsav. The link will ask you for your name, the temple you attend and the niyams you choose. That simple! You can log your niyams daily, weekly or however you wish. You may even organise a time at your local mandir to collectively perform any of the bhakti niyams.
Just remember, bhaav is the epitome of Bhakti and the more you practice it, the more naturally it'll come.
We're looking forward to this one. Don't forget to send your photos or videos to utsav@sksst.org.
#BhaavNaBhukya #MiniUtsav #OneWorldOneTeam #LiveToServe #UnityIsPower #BhaktiYoga #VibrateHigher #DivineGuidance #Meditation #ThrivingTogether #VK25 #VasudhaivaKutumbakam #TheWorldIsOneFamily
If you're unsure how to carry out these niyams then see our tutorial video OR if you think that you don't know why we should do it or what benefit it brings - listen to the awesome Mahima talk by Balkrushna Dasji Swami.