Daily Darshan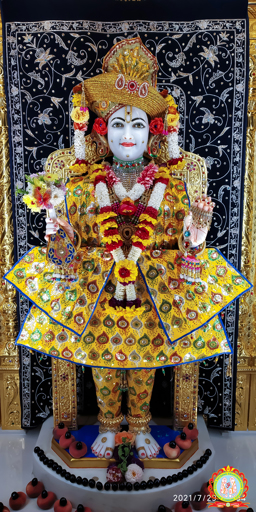 Opening times
| | Opening times | Aarti Time |
| --- | --- | --- |
| Mon - Sun [Morning] | 7-11 AM | 9:30 AM |
| Mon - Fri [Evening] | 4-7:30 PM | 6:00 PM |
| Saturday [Evening] | 4-7:30 PM | 5:45 PM |
| Sunday [Evening] | 4-7:30 PM | 4:30 PM |
Sunday with Thakarthali and Festival Days with Special Evening Prayers the Aarti time is 7:30PM
Please note that on festival days the times may vary. Please contact the Temple if you need more information
Shikshapatri Shlok 65
All my devotees should follow the commandments prescribed earlier and also study religious scriptures according to the best of their knowledge. |65|

અને અમારા આશ્રિત જે સર્વે સત્‍સંગી તેમણે જે પ્રકારે પૂર્વે કહ્યું તે પ્રકારે કરીને જ નિત્‍ય પ્રત્‍યે કરવું અને સંસ્‍કૃત અને પ્રાકૃત એવા જે સદગ્રંથ તેમનો અભ્‍યાસ પણ પોતાની બુધ્ધિને અનુસારે કરવો |૬૫|
Read More
Calendar
Saturday, 31st of July

Kalashtmi

Tuesday, 3rd of August

Vachnamrut - Writing Completed

Wednesday, 4th of August

Kamika Ekadashi Fast

Sunday, 8th of August

Amavasya

Monday, 9th of August

Shiv Poojan Begins

Sunday, 15th of August

India Independence Day
More events
ANNUAL GENERAL MEETING
Shree Kutch Satsang Swaminarayan Temple (London) Kenton, Harrow's Annual General Meeting will be held on
SUNDAY 1st AUGUST 2021 AT 4:00PM. (subject to Government guidance on gatherings)
All ladies and gents satsangi members are requested to attend the meeting.
AGENDA
Last meeting minutes.
Reports from trustees.
Annual accounts, budgets, reports and approvals.
One Trustee position election for the period 2021-2023 (nomination form available from Kothar)
Executive Committee Election for the year 2021-2022.
Any other business, with the permission of the president.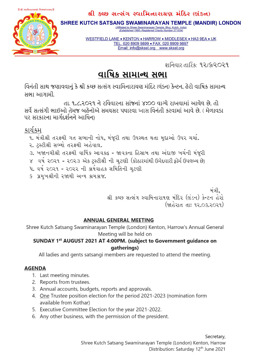 Tricon Trifecta Challenge
Jay Shree Swaminaryan,
THE TWO MONTHS COUNTDOWN BEGINS NOW! We are proud to launch our 1st charity event for our 25th utsav called Trikon Trifecta! Supporting our nominated charities: Go Dharmic, St Luke's Hospice and Centre for Mental Health. We will be doing 3 forms of exercise/challenge whilst visiting a few Swaminarayan temples all over London. You have the option to do one event, two events or if you are brave enough; all 3 events and achieve the Trikon Trifecta!
Please sign up and share to those that you think will be interested.
You can sign up by clicking here
Cycling sign up has closed
Deadline for the running and walking sign up is Sunday 1st August 2021.
Our fundraising page will be set up very soon!
Details of the full event are on the links below and on the posters above.
Click here to download the information pack for the cycling
Click here to download the information pack for the running
Click here to download the information pack for the walking
Click here to find out more about our chosen charities
Coronavirus Rules and Guidelines
Although the government has relaxed most of the coronavirus rules and legislations, we would like this event to be as safe as possible for all the participants. Therefore, we kindly request that you carry out a Lateral Flow Test (LFT) 1-2 days before Saturday 7th August. You can order this free of charge from https://www.gov.uk/order-coronavirus-rapid-lateral-flow-tests
Please follow individual mandirs' safety rules/guidance by wearing a mask whilst on the premise with the exception of when you are seated during a meal or exempted for medical reasons. Please keep a minimum of 1m distance at all times.
Please do not attend the event if you are self-isolating or have coronavirus symptoms.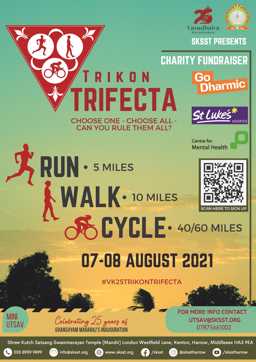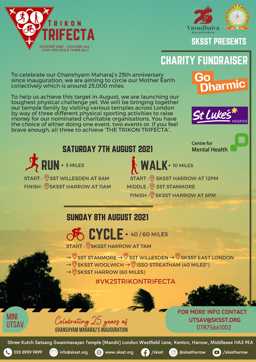 The Treasure Within
Jay Shree Swaminarayan,
Whose ready to find THE TREASURE WITHIN?
Though the pandemic may have derailed many plans across the world .... The SKSST wheels are still going and we're here to welcome you onboard to the spiritual train to Maharaj's 25th Anniversary with the BIGGEST event of the summer.
An event full of love, learning, fun and laughter! We'd hate for you to miss it.
So go on, what are you waiting for! SAVE THE DATES AUG 27-29 in your calendars and sign up by clicking here
An event so special there are a limited number of spots available! Sign up NOW to avoid disappointment.
We'll see you on the other side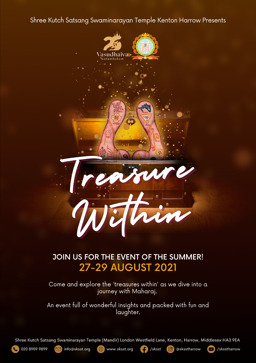 COVID-19 IMPORTANT UPDATE
Jay Shree Swaminarayan,
We are happy to announce that as we begin to come out of the national lockdown and as per the Government guidelines, the temple will now be open in both the morning and evening with socially distanced seating arrangements.
The opening times will be as follows:
Mornings: 7am-11am
Evenings: 4pm-7:30pm
Safety measures set out by our temple will be mandatory when visiting.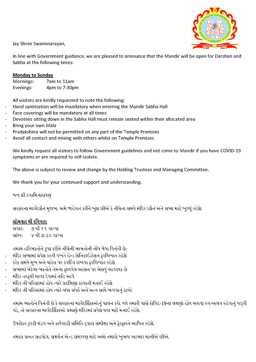 Solar Eclipse
Jay Shree Swaminarayan!
An Eclipse will take place in the UK on Thursday 10th June from 10:07AM to 12:25PM.
Please have a look at the poster for details on when you should stop eating and the exact timings of the eclipse.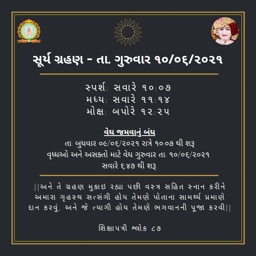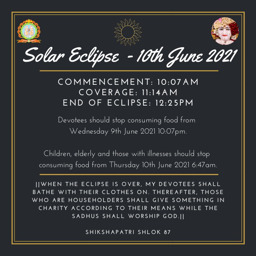 Virtual Maha Pooja
Jay Shree Swaminarayan,
As many countries struggle with the devastating impacts of Covid, we've arranged a Mahapooja to offer our collective prayer to all affected families during these difficult times.
Join us on Sunday 6th June 2021 at 7AM on our stream
Items you will need :
Own pooja set (including asans, murtis, and puja clothing)
Mahapooja yantra (if available otherwise white cloth on patlo)
500ml Panchamrut (dudh, dhai, ghee, madh, sakar) (combination of milk, yogurt, ghee, honey, sugar)
Pooja powders (abil, gulal, sindhur, haidar, kumkum, chandan)
500g Chokha (rice)
Handful of Tulsi patra
7 pieces Nagarvel paan
Nariyal
Handful of Flower petals (and haar if available)
Roll of Nada chadi
About 20 Sopari
2 Kalashs, and a few: cups, small bowls, spoons, tissues
1 Divo
1 Aarti and ghanto (bell)
1 Pako Thal and mukhvas items (a spoon of: elchi, laving, and sopari)
A small bowl of: kaju, badam, pista, dhraksh (raisins), sakar
2 pieces of fruit each
Pooja item packs will also be available to pick up from the outside Mandir Kothar between 7am-11am daily.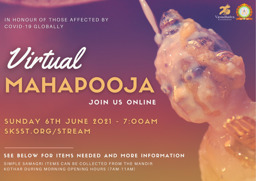 Food Bank
Jay Shree Swaminarayan,
In collaboration with Go Dharmic, we will be collecting basic necessities every weekend to help those who are in need of these everyday items which we easily take for granted. Together we can help those less fortunate than us and make a difference
"The smallest act of kindness is worth more than the grandest intention" - Oscar Wilde
Download the Go Dharmic app from the App Store if you would like to learn more about their campaigns and how you can get involved!
Love all. Feed all. Serve all.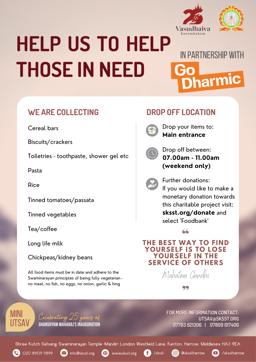 Janmangal Namavali Recital
Jay Shree Swaminarayan,
Whilst our restrictions have begun to lift here in the UK, there are still so many families that are being affected by COVID-19 around the world
We will be holding an hour long recital of the Janamangal Namavali every Sunday this month from 11am-12pm via our livestream
Join us from this Sunday as we pull together yet again through the power of prayer - one world, one family.
#BetterTogether #OneWorldOneFamily #ThePowerOfPrayer #VasudhaivaKutumbakam #TheWorldIsOneFamily