Murtis
Below are some of the Murtis around the Mandir
CENTRE SINHASAN
Ghanshyam Maharaj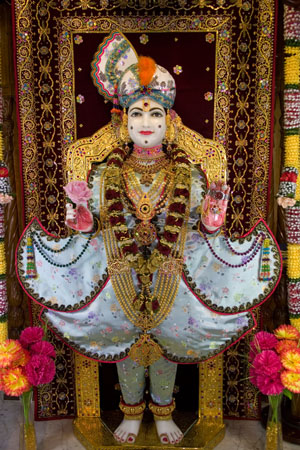 Radha Krishna Dev and Harikrishna Maharaj (Bhuj)
Radhaji is the most prominent devotee of Krishna
She symbolises love for the Lord.
Deities installed by Acharya Maharajshree Vasudev Prasadji Maharaj and Mahant Swami Aksharjivan Dasji
Date installed: VS 1967 Chaitra Vad 7
Surya Narayan Dev
As per modern science, earth rotates and revolves round a stationary sun.
As per scriptures, the Sun god rides non-stop on horses to illuminate all parts of the stationary universe.
There are many Sun gods, one per universe.
Sun provides light and heat. Swaminarayan Bhagwan has cool light emanating from Himself much greater than billions of suns combined.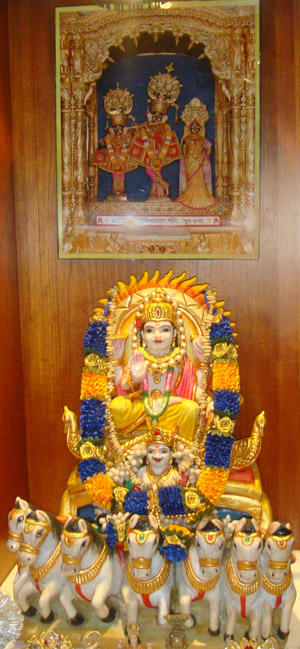 Prasadi no Takto
Sanctified items (Prasadi ni Vastu) used by Swaminarayan Bhagwan
Touching these brings us feel closer to Maharaj, as Prasad means

Pra - Prabhu nu
Sa - Sakshaat
D - Darshan

Other examples of Prasadi ni Vastu seen in Mandirs are: Mala, utensils, garments, bed, blankets, prasadi ni sheela (stone), trees, rivers and lakes, etc
Visit the Swaminarayan Museum project for more prasadi items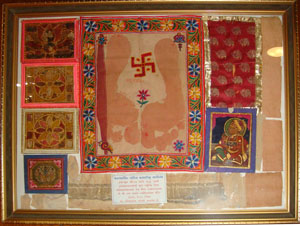 Right Hand Takta - Upper
Nar Narayan Dev
Sons of Dharma and Murti, brothers of Hari and Krishna
Decided to be Vairagis and do austerity in Badrikashram for the benefit of satsangis
Considered as kings of Bharatkhand
Installed by Swaminarayan Bhagwan Himself in Ahmedabad temple [Falgun sud 3, VS 1878 (24 February 1822 AD)], and Bhuj temple [Vaishakh sud 5, VS 1879 (Friday, 15 May 1823 AD)]
This murti (and all other murtis) are portraits of the deity in Ahmedabad
Nar is always on the left of Narayan
Uddhavji
Always remains at the side of Bhagwan to carry out His commands
Same one who served Krishna Bhagwan
Later became Ramanand Swami
Narad Muni
Bhagwan's official messenger in all His avtaars.
Surya Dev & Chandra Dev
Had asked Bhagwan to allow them His darshan at all times
Are a witness to the austerity done by Nar & Narayan in Badrikashram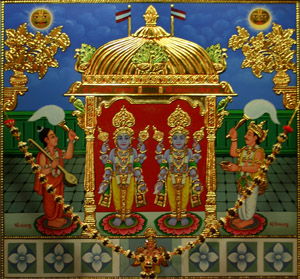 Right Hand Takta – Lower
Ramanand Swami & Nilkanth Varni in Piplana
Nilkanth Varni receiving teachings from Ramanand Swami after being initiated.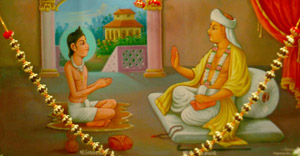 Central Takta
Swaminarayan Bhagwan
The supreme Lord Himself.
Do dhyaan of this murti and His attire and pose.
Ways of naming to a Murti of Bhagwan:
Standing – Ghanshyam Maharaj
Seated cross legged with frontal view – Sahajanand Swami
Seated with side view – Swaminarayan Bhagwan

Harikrishna Maharaj
The unique form of Bhagwan found in all mandirs, regardless of other murtis installed
Found in personal poojas of some Mahant Swamis or other great saints.
All saints must carry Harikrishna Maharaj along in their travels (mobile form of Bhagwan)
Must do all poojas of Harikrishna Maharaj, e.g: waking Him up, bathing Him, feeding Him, making Him go to sleep, etc.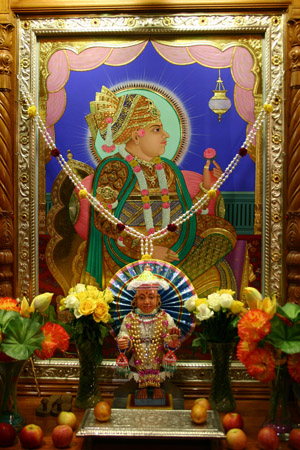 Left Hand Takta – Top
Radha Krishna Dev & Harikrishna Maharaj
Please see above for explanation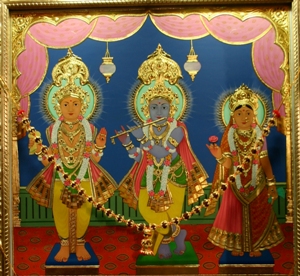 Left Hand Takta - Bottom
Dharmadev, Bhaktimata & Ghanshyam Maharaj
Portrait showing Ghanshyam Maharaj with His parents after learning to walk.
Dharmadev – Born in Ittar in VS 1796, Kartik Sud 11 Sunday
Named as Hari Prasad Pande.
Father was Dev Sharma
Mother was Bhagyavati Sharma

Bhaktimata – Born in Chhappaiya in VS 1798, Kartik Sud 15. Departed in VS 1848:
Named as Premvati.
Father was Krishna Sharma
Mother was Bhavani Sharma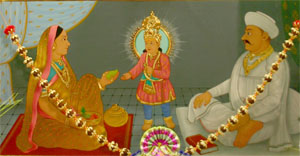 Sadguru Shri Vallabh Dasji Swami
Born in Rampur Vekra in VS 1942 (1885 AD) and was named as Naran
Father's name: Devrajbhai Mother's name: Purbai
Was initiated on VS 1963 Vaisakh Sud 11 (1906 AD) by Acharya Purshottam Prasadji Maharaj as requested by Aksharjivan Dasji Swami
Was disciple of Sadguru Swami Mahapurush Dasji
Became Mahant of Bhuj mandir in VS 1991 (1934 AD) for 20 years.
Very enthusiastic about following Dharma, Bhakti, Gnan and Vairagya and preached this to many.
Very powerful and close to Bhagwan:
Made rain on his way to Tera village at the request of an old village woman
Maharaj used to appear and give him divya darshan and mental when he was ill

Went to Akshardham in Posh sud 9, VS 2010 (1953 AD) after handing over Mahantship to Swami Dharmajivan Dasji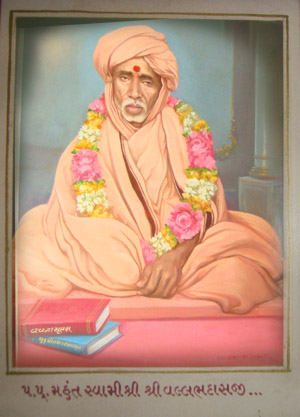 Sadguru Aksharjivan Dasji Swami
Born in Rampur in VS 1908 (1851 AD) and was named as Shamji
Father's name: Meghjibhai Mother's name: Amarbai
Was initiated on VS 1924 by Acharya Keshav Prasadji Maharaj
Was disciple of Sadguru Swami Achyutt Dasji
Became 3rd Das-pankti Mahant of Bhuj mandir (after Anand Dasji and Achyutt Dasji Swami).
Was very strict about observance of 5 Vartmans of grahasthas and 5 Vartmans of saints, hence wrote the Ekadashi No Patra
Very powerful and close to Bhagwan, he saved a village resident from Yamdoots by whipping two and tying two to a tree.
Went to Akshardham in Falgun sud 9 after handing over Mahantship to Swami Krishnacharan Dasji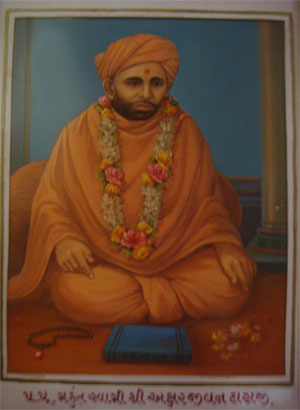 Sadguru Dharmajivan Dasji Swami
Born in Baladia in Jeth Sud 15, VS 1960 (1903 AD) and was named as Lalji
Father's name: Jadvabhai Mother's name: Jivibai
Passed GCSE (equivalent of those times) and went to work in Nairobi as a bookkeeper
Came back to India and was initiated on VS 1981 Maha Sud 5 (Vasant Panchmi) (1924 AD) by Acharya Vasudev Prasadji Maharaj at the request of Swami Mahapurushdasji
Was disciple of Sadguru Swami Bhaktipriya Dasji
Became Mahant of Bhuj mandir in VS 2010 (1953 AD)
Was very keen for saints to study scriptures and established a Sanskrit school for saints and the Swaminarayan Boarding School for boys.
He blessed many satsangis to travel and seek employment or establish companies in East Africa and England
Inspired building of temples in all foreign regions (including Harrow)
Went to Akshardham in VS 2033 (1976 AD) Maha Sud 5 (Vasant Panchmi) after handing over Mahantship to Swami Hariswarup Dasji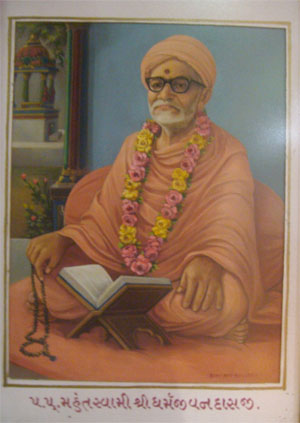 Charnarvind
Another Prasadi ni Vastu having actual lotus footprints of Maharaj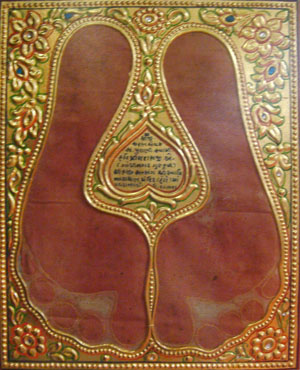 Hanumanji
Born in the Treta Yug (Third Age)
Mother's name: Anjana (actually an apsara called Punjikasthala, cursed in heaven and sent to earth to be born as a vanar - monkey)
Father's name: Pavan (wind god)
But is regarded as not having taken birth, as he avails himself in the service of all the Avtaars.
Gained most respect in the service of Lord Ram
Mentioned by Maharaj in Vachnamrut as the best example of a Pati-vrata Bhakta
Is a celibate and does not touch women. Women should not bow to Hanuman with their hands folded.
Is found in all mandirs in Hinduism
Hanuman Chalisa is sung worldwide in his praise
Maharaj has advised us to recite Hanuman Stotra for protection in times of adversity
Shani Graha (Panoti)
Demon Brahmin causing ills to the society with his mystical powers.
Society prayed to Hanumanji
Escaped the wrath of Hanumanji by transforming himself into a woman thinking Hanumanji would not touch "her".
Hanumanji recognised him and held him by his hair, and stepped on him and has not let him go ever since.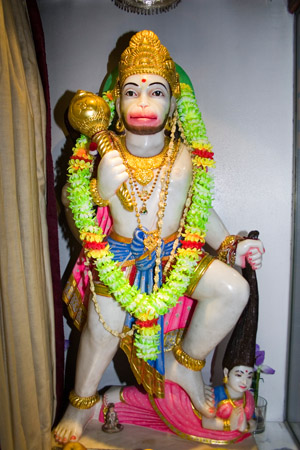 Nilkanth Varni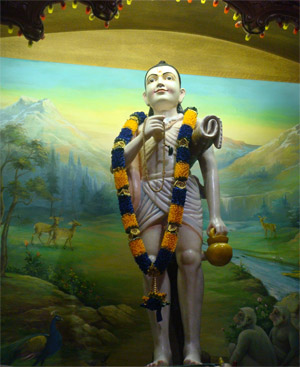 Swaminarayan Bhagwan - Manki Ghodi
One type of mare (other mares Maharaj had called Kesar, Beri, Bodali, Fulmad, Tajan, Tikhi & Vangani)
Called Manki because of its colour – brown – same as that of a manek (brown ruby stone)
Given as a gift by Dada Khachar to Maharaj
Was most loyal to Maharaj and His 1st choice
Has even travelled faster than Garudji when Maharaj was returning from Vadtal to Gadhpur
Was used to estimate the amount of land to be required for construction of Ahmedabad Temple.
Bhaguji
Was a kshatriya by caste and had given up all his villages to be in the service of Maharaj.
Was always by Maharaj's side.