Past Events
Donations
Jay Shree Swaminarayan,
We hope you and your families are keeping well and safe.
The Mandir is now open daily from 7AM - 11AM. Devotees are able to do thaal and obtain Prashad as normal in the kothar
You can also donate by transferring to the below account details:
Name: Shree Kutch Satsang Swaminarayan Temple London
Bank: Barclays
Sort code: 20-37-16
Account No: 30837822
If you are donating by transfer, please send an email to us with your full name and donor number/postcode to info@sksst.org so we can send you a receipt for your donation
Holi Utsav 2020
Jay Shree Swaminarayan,
In light of the current outbreak of the Coronavirus (COVID-19), the Managing Committee of the Temple has decided to cancel the planned event on Sunday 8th March 2020 at Woodcock Hill Park, to celebrate Holi, as a precautionary measure.
Whilst this decision has not been taken lightly, it has been done so in the interest of the health and wellbeing of all devotees and visitors (especially the elderly and vulnerable).
Please note that the Temple will remain open for Aarti, Darshan and Sabhas as normal, until further guidance is issued.
We will of course continue to monitor the situation and update the public as we receive more information.
We thank you for your understanding and apologise for any inconvenience caused.
Yours humbly,
Managing Committee
SKSS Temple (London), Kenton-Harrow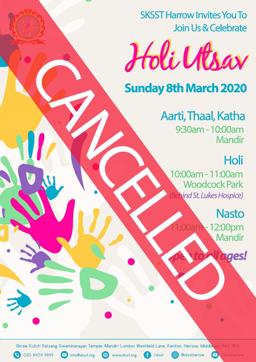 Pyjama Movie Night 2020 Full Capacity Reached
Jay Shree Swaminarayan,
THE FIRST KIDS EVENT OF 2020!
An all time classic film, delightful snack and comfortable clothing - what more do children need?
Our Pyjama Movie Night taking place on Saturday 29th February has 2 different time slots
Children aged 3-7 between 5:30pm and 7:00pm
Children aged 8-12 between 7:30pm and 9:30pm.
The booking link is now officially CLOSED. We've absolutely loved seeing all the enthusiasm surrounding our PJ Night Event! Thank you to everyone that's signed up. Can't wait to welcome you all on Saturday 29th February!
#KidsPyjamaNight #NightOut #MissItMissOut #SnuggleUp #sksst #sksstharrow
Please note, this event is for kids aged between 3 - 12 years only.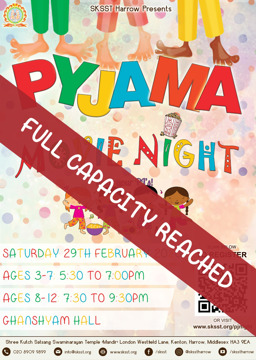 Maha Shivratri
06:30AM to 11:00AM & 03:30PM to 08:00PM: Temple open for Shiv Poojan
07:30PM to 08:00PM: Samayo followed by Aarti
Click on the poster for more details
Swaminarayan Bhagwan has considered Lord Shiva as one of the five pious gods and whose festival is one of the 29 vrats and which should be done with utmost devotion, especially by way of a mandatory full fast by those able to do so.
The festival of Mahashivratri is the most important festival for the millions of devotees of Lord Shiva. The festival has been accorded lot of significance in Hindu mythology. It says that a devotee who performs sincere worship of Lord Shiva on the auspicious day of Shivratri is absolved of sins...
Click here to read more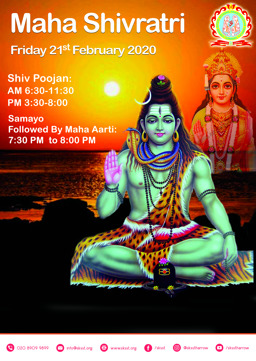 SKSST 23rd Patotsav
With the blessings of our beloved Maharaj, Shree Kutch Satsang Swaminarayan Temple (Mandir) London will be hosting a memorable event this year as it marks the 23rd anniversary of the Temple.
Join us for our 23rd Anniversary Celebrations. The event will be graced by learned Saints from Shree Swaminarayan Temple Bhuj, who will recite the holy scripture Vachnamrut. Katha commences on Thursday 26th December 2019, with Abhishek on Wednesday 1st January 2020 from 7:00am onwards and other programmes throughout the week... Click on the posters to find out more!.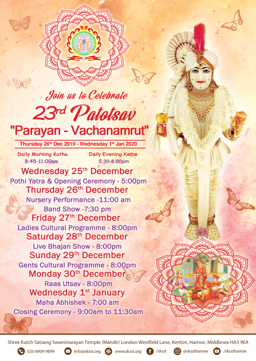 Diwali 2019
Diwali also known as the 'festival of lights', is a five day festival which starts on Dhanteras, followed by Kaali Chaudas, Diwali, New Years Day and ends on Bhaibeej.
Click here to read more about the celebrations of Diwali.
Click on the poster for more details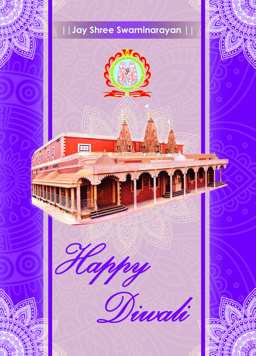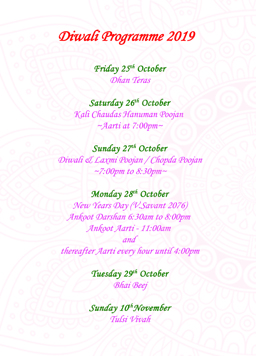 Harijan Sacha Re
SSYM Harrow presents, Harijan Sacha Re; a 5-day rollercoaster filled with challenging activities, delicious prashad, exciting games and sports alongside captivating workshops and presentations that will take you on an emotional journey through the stories and experiences of the hidden gems that have shaped our Sampraday to what it is today. When our beloved Lord Swaminarayan came down in his physical form over 200 years ago, he brought along an army of devotees with him. As Maharaj continues to lay the bricks of the sampraday which we take shelter of, the devotees continue to be the mortar that holds these bricks together. Book your seat on this incredible ride, unlocking the treasures that we never knew existed...
Singhasan Jirnordhar Mahotsav
Jay Shree Swaminarayan,
Following the Tatvagrahan pooja at the end of June, work is fully underway in the construction of Ghanshyam Maharaj's singhasan. A reinstallation of the murti will take place with the Punahpratistha ceremony on Sunday 28th July conducted by H.H 1008 Koshalendra Prasadji Maharaj and Bhuj Mandir Santos. In the lead up we also have a Bhajan show and Havan ceremony.