Past Events
Special General Meeting
Jay Shree Swaminarayan,
Notice to Convene a Special General Meeting
Pursuant to Clause 10 (c) of the Constitution of Shree Kutch Satsang Satsang Swaminarayan Temple (Mandir) Temple (London)
The Secretary gives notice of a Special General Meeting of the Members to be held at:
Location: The Temple Sabha Hall on Sunday, 30th January 2022 at 5:00pm
Agenda:
1. Purchase of Hillingdon House as agreed within a Holding Trustees meeting, and thereafter at Executive
Committee Meeting.
Secretary,
For and on behalf of
Shree Kutch Satsang Swaminarayan Temple (London) Kenton, Harrow
Notice Announced & Displayed: Sunday 2nd January 2022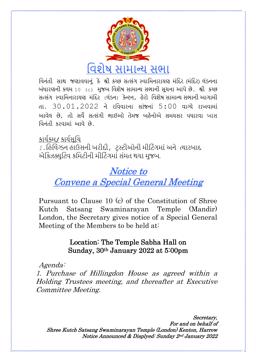 Covid Precautions
Jay Shree Swaminarayan,
See below document further highlighting key COVID procedures information in relation to prior to and during 25th Utsav as well as Samatva Shibir.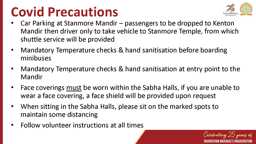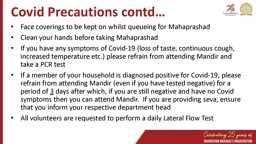 Laxmi Poojan
Jay Shree Swaminarayan,
On the momentous occasion of Diwali, we will be holding a Laxmi Poojan in the mandir from 7pm. For those partaking in the pooja at Mandir, the poojan items will be provided. Please bring the murti's, account book(s) and a red pen.
You are also able to join in the Poojan from home by joining us virtually. For those joining us virtually, the poojan packs can be collected from the Mandir today and tomorrow or you can refer to the poster for a list of the items required.
Finally, if you are joining us virtually, please have a printed copy of the sheet (second image) as it will be required in the poojan.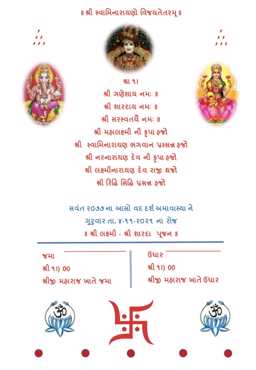 Diwali 2021
Diwali also known as the 'festival of lights', is a five day festival which starts on Dhanteras, followed by Kaali Chaudas, Diwali, New Years Day and ends on Bhaibeej.
Click here to read more about the celebrations of Diwali.
Click on the poster for more details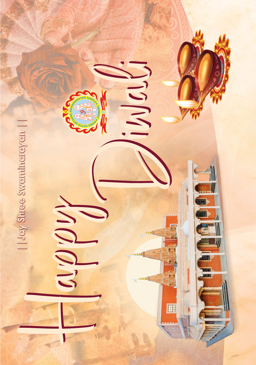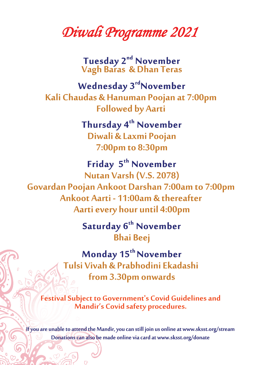 Diwali Volunteering Opportunity
Jay Shree Swaminarayan.
Ahead of the upcoming Diwali celebration, there are many seva opportunities available including Kitchen, Decoration, Maintenance prior to the festival, and on the day of Ankoot/New Years (Friday 5th November 2021). If interested please contact 07943411439.
Flu Jab
Jay Shree Swaminarayan,
We'll be providing free flu jabs at the temple for over 18's!
- Sunday 24th October
- 11am - 2pm
- Shree Kutch Swaminarayan Temple, Kenton in Ghanshyam Hall
Dont forget your NHS number and GP details!
#FluJabs #FluVaccine #Immunisation #ProtectingOthers #ProtectYourself #FluSeason #GetVaccinated #HarrowFluJabs #VasudhaviaKutumbakam #TheWorldIsOneFamily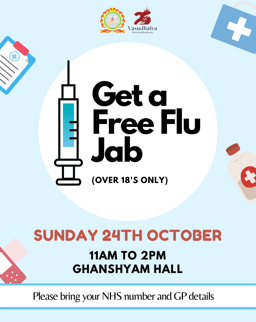 25th Utsav Cultural Event Sign Up
Jay Shree Swaminarayan,
With our Ghanshyam Maharajs big 25th just months away - cultural event planning is well and truly underway! And we'd like as many of you involved as possible!
Whether you'd like to teach, dance, have a bit of fun with acting, help backstage or behind the scenes - there's something for everyone!
Get involved by filling out the quick form below and we'll contact you with more information
Gents - Click here
Ladies - Click here
Deadline to register: Wednesday 15th September 2021
For any further queries please email utsav@sksst.org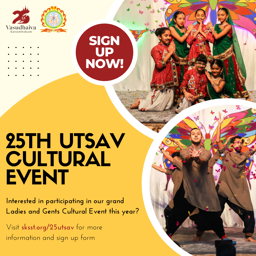 Giving Back
Jay Shree Swaminarayan,
September 2021 is all about Giving Back to the elderly - keep an eye out for all the different activites we have going on. Our elders are the firmest believers, motivators and supporters.
Simply register an elderly relative (65+) for a treat box by Sunday 12th Sept on www.sksst.org/givingback and collect it from the ladies side entrance on the dates/times below:
Friday 17th Sept - 4pm-5pm
Saturday 18th Sept - 10:30am-11:30am
For any further queries, email utsav@sksst.org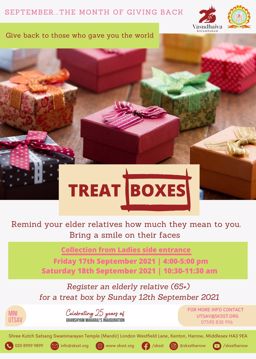 Mini Trikon Trifecta
Jay Shree Swaminarayan,
BACK BY POPULAR DEMAND!
With our Trikon Trifecta being a great success earlier in the month, we'd like to thank all participants for your cooperation and heartfelt kind feedback.
SKSS Temple are proud to present the 'MINI Trikon Trifecta Challenge'. An event organised specially for you and your families where you can still RUN / WALK / CYCLE and help us achieve our August month target of 25,000 miles. All ages are welcome to take part in some Sunday family fun. See the poster for more details.
With limited spaces, use the link below to book your spaces. Warning: they will disappear fast!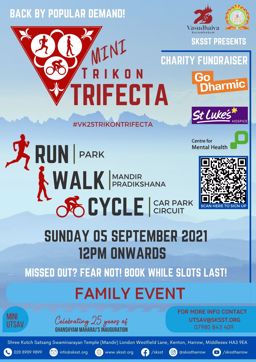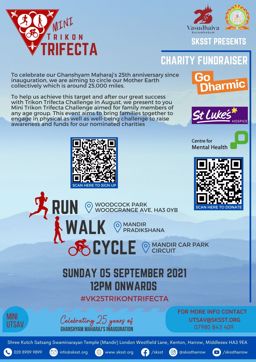 SSYM Sunday
Jay Shree Swaminarayan,
Our Sunday Bal Mandal is back!
A place where many of our temple youth have taken their first steps in Satsang and made memories they will cherish forever.
We are calling all children aged 5 and above who wish to find their feet in spirtuality. Bal Mandal is full of fun activities and group based learning.
Join us from 9:30am for Aarti in Mandir then in the Education Building where you can fill out a registration form and enjoy the learning thereafter.
We look forward to welcoming you all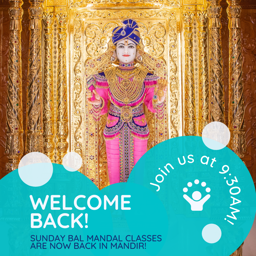 Janmasthmi 2021
Jay Shree Swaminarayan,
'Yada Yada Hi Dharmasya, Glanirva Bhavathi Bharatha, Abhyuthanam Adharmaysya, Tadatmanam Srijami Aham. Praritranaya Sadhunam, Vinashaya Cha Dushkritam, Dharamasansthapnaya, Sambhavami Yuge-Yuge.'
'Whenever, O descendant of Bharata, righteousness declines and unrighteousness prevails, I manifest Myself. For the protection of the righteous and the destruction of the wicked, and for the establishment of religion, I come into being from age to age.' Krishna Bhagwan to Arjuna - Bhagvad Gita 4 - 7/8
Join us tomorrow to celebrate the appearance and life of Bhagwan Shree Krishna on the auspicious day of Janmashtami. Please see the poster for darshan times and the evening itinerary.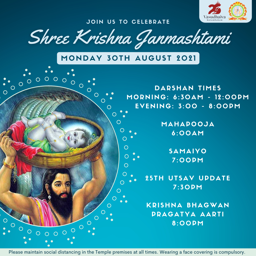 The Treasure Within
Jay Shree Swaminarayan,
Whose ready to find THE TREASURE WITHIN?
Though the pandemic may have derailed many plans across the world .... The SKSST wheels are still going and we're here to welcome you onboard to the spiritual train to Maharaj's 25th Anniversary with the BIGGEST event of the summer.
An event full of love, learning, fun and laughter! We'd hate for you to miss it.
So go on, what are you waiting for! SAVE THE DATES AUG 27-29 in your calendars and sign up by clicking here
An event so special there are a limited number of spots available! Sign up NOW to avoid disappointment.
We'll see you on the other side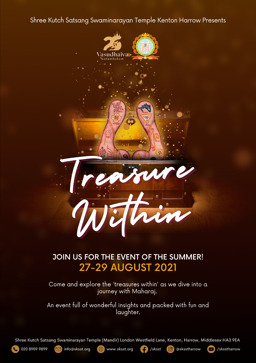 ANNUAL GENERAL MEETING
Shree Kutch Satsang Swaminarayan Temple (London) Kenton, Harrow's Annual General Meeting will be held on
SUNDAY 1st AUGUST 2021 AT 4:00PM. (subject to Government guidance on gatherings)
All ladies and gents satsangi members are requested to attend the meeting.
AGENDA
Last meeting minutes.
Reports from trustees.
Annual accounts, budgets, reports and approvals.
One Trustee position election for the period 2021-2023 (nomination form available from Kothar)
Executive Committee Election for the year 2021-2022.
Any other business, with the permission of the president.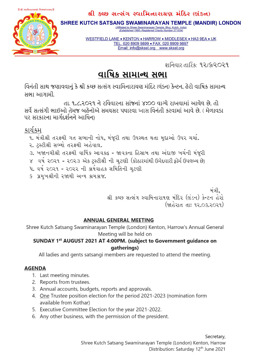 COVID-19 IMPORTANT UPDATE
Jay Shree Swaminarayan,
We are happy to announce that as we begin to come out of the national lockdown and as per the Government guidelines, the temple will now be open in both the morning and evening with socially distanced seating arrangements.
The opening times will be as follows:
Mornings: 7am-11am
Evenings: 4pm-7:30pm
Safety measures set out by our temple will be mandatory when visiting.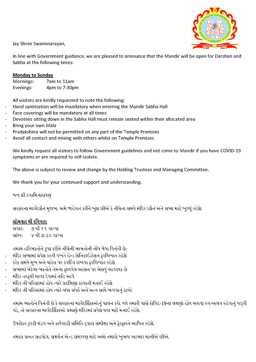 Virtual Maha Pooja
Jay Shree Swaminarayan,
As many countries struggle with the devastating impacts of Covid, we've arranged a Mahapooja to offer our collective prayer to all affected families during these difficult times.
Join us on Sunday 6th June 2021 at 7AM on our stream
Items you will need :
Own pooja set (including asans, murtis, and puja clothing)
Mahapooja yantra (if available otherwise white cloth on patlo)
500ml Panchamrut (dudh, dhai, ghee, madh, sakar) (combination of milk, yogurt, ghee, honey, sugar)
Pooja powders (abil, gulal, sindhur, haidar, kumkum, chandan)
500g Chokha (rice)
Handful of Tulsi patra
7 pieces Nagarvel paan
Nariyal
Handful of Flower petals (and haar if available)
Roll of Nada chadi
About 20 Sopari
2 Kalashs, and a few: cups, small bowls, spoons, tissues
1 Divo
1 Aarti and ghanto (bell)
1 Pako Thal and mukhvas items (a spoon of: elchi, laving, and sopari)
A small bowl of: kaju, badam, pista, dhraksh (raisins), sakar
2 pieces of fruit each
Pooja item packs will also be available to pick up from the outside Mandir Kothar between 7am-11am daily.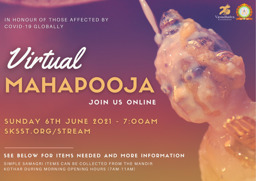 Food Bank
Jay Shree Swaminarayan,
In collaboration with Go Dharmic, we will be collecting basic necessities every weekend to help those who are in need of these everyday items which we easily take for granted. Together we can help those less fortunate than us and make a difference
"The smallest act of kindness is worth more than the grandest intention" - Oscar Wilde
Download the Go Dharmic app from the App Store if you would like to learn more about their campaigns and how you can get involved!
Love all. Feed all. Serve all.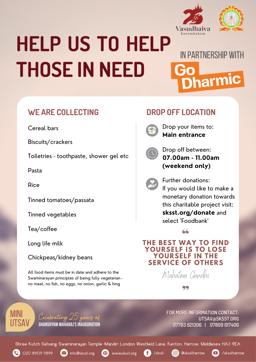 Janmangal Namavali Recital
Jay Shree Swaminarayan,
Whilst our restrictions have begun to lift here in the UK, there are still so many families that are being affected by COVID-19 around the world
We will be holding an hour long recital of the Janamangal Namavali every Sunday this month from 11am-12pm via our livestream
Join us from this Sunday as we pull together yet again through the power of prayer - one world, one family.
#BetterTogether #OneWorldOneFamily #ThePowerOfPrayer #VasudhaivaKutumbakam #TheWorldIsOneFamily
Maha Shivratri
Jay Shree Swaminarayan,
|| They shall devoutly observe the austerities on Ekadashi, Janmasthmi and other anniversaries such as Maha Shivratri and celebrate them with great reverence || Shikshapatri Shlokh 79
This Thursday we celebrate Maha Shivratri and honour Mahadev, the protector full of compassion and the destroyer of the sinful. Maha Shivratri celebrates the great night of Lord Shiva and his marriage with Parvati devi.
Our scriptures sing the praises of Lord Shiva such as in the Shikshapatri where Lord Swaminarayan mentions him frequently or in Vachanamrut Loya 1 where Lord Shiva is mentioned to be a master of Yoga.
Join us from 7.30pm for a virtual Shiv Poojan which will be followed by aarti.
Om Namah Shivaya!
#MahaShivratri #Celebrations #Mahadev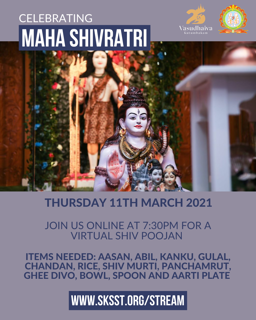 SKSST Virtual Saak Utsav
Jay Shree Swaminarayan!
Join us this Saturday to celebrate Maharaj's Saak Utsav from 6:30pm onwards live through our stream.
Don't worry you wont be missing out on the lovely Rotlo or Ringra - Our video tutorial and ingredients list is available for you to make your own version at home. Click here to make your own dish.
Be sure to send us your photos and videos by messaging us on Facebook or Instagram and we'll upload it.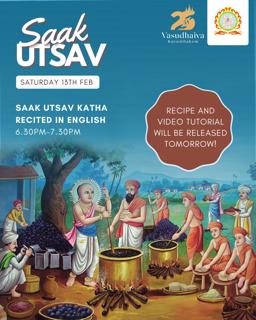 Dhanjibhai Karsan Varsani (Gaam Kera)
Jay Shree Swaminarayan,
It is with deep regret and a heavy heart to inform you that our Holding Trustee and long serving member of our Temple, Dhanjibhai Karsan Varsani (gaam Kera) has departed his mortal body, for Akshardham on 28th January 2021.
For those who had the pleasure of being in his company, will know he was unwavering and committed in his seva for Harrow Mandir. His energy and passion whilst doing his seva should serve as an example to all.
Dhanjibhai was part of the fabric of the Temple, being part of the Temple's Treasury and Administration team, as well as a Trustee for over 25 years. Proactive and forward-thinking in his nature, he helped to shape what the Temple stands for today.
We pray at the lotus feet of our beloved Bhagwan Shree Swaminarayan to give his family and friends the strength and comfort during this difficult time.
Yours humbly,
Holding Trustees & Committee
SKSS Temple Kenton-Harrow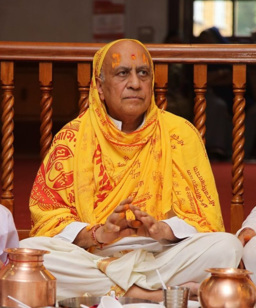 Shokh Sabha
Jay Shree Swaminarayan,
'Shokh Sabha' is still taking place online every Saturday from 5:00pm - 6:00pm.
Please provide the following details: Full name of the person reporting the death and their relationship to the deceased; full name of the person who has died, their gaam in India, place of death.
If you wish to write down a name of a loved one who has passed away, please contact us on one of the numbers or email us at info@sksst.org.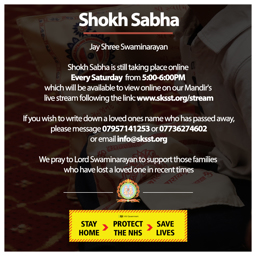 SKSST 24th Patotsav
Jay Shree Swaminarayan!
We're so excited to announce our agenda for our Patotsav this year! Although it will be a little different this year due to the government restrictions, this wont stop our Patotsav from going ahead!
We'll be streaming all our usual entertainment on our YouTube platform to give all devotees a true utsav experience alongside a comedy night presented by our Bhuj Santos
Please note our temple will be closed
Please find all the relevant information on the poster and start filling your diaries
#24thPatotsav #VirtualUtsav #MissItMissOut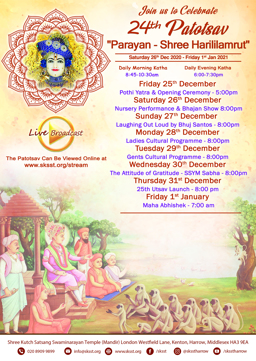 Neonatal Collection
Jay Shree Swaminarayan,
THE SEASON OF GIVING IS UPON US! This year, we have chosen to give aid to local Neonatal Intensive Care Units.
What is Neonatal?
This is an intensive care unit specialising in the care of ill or premature newborn infants.
In such times, Parents need only to spend time with their babies. What can we do to help? We can shower our love and care in abundance by gifting the items they may require the most.
It's been a difficult year so lets end it off by bringing the brightest of smiles to these precious souls and their parents.
We are collecting specific items (listed on the poster) or charitable donations for this wonderful cause!
Together we can do so much. Get involved and share the giving spirit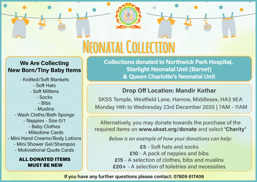 Tulsi Vivah: Important Notice
Jay Shree Swaminarayan,
Due to the current UK Government lockdown restrictions, the Trustees and Management Committee of Shree Kutch Satsang Swaminarayan Temple, London (Harrow) have decided that the Temple will not be hosting the Tulsi Vivah festival that was scheduled for Sunday, 29th November 2020. We understand the disappointment to our fellow devotees and hope that you support the decision which has been taken with everyone's safety in mind.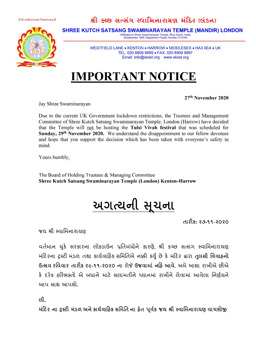 Diwali 2020
Jay Shree Swaminarayan!
Diwali also known as the 'festival of lights', is a five day festival which starts on Dhanteras, followed by Kaali Chaudas, Diwali, New Years Day and ends on Bhaibeej.
Click here to read more about the celebrations of Diwali.
Click on the poster for more details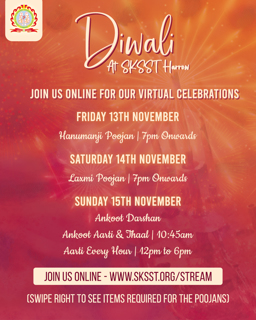 Give Back To Those Who Gave You The World
Jay Swaminarayan,
Give back to those who gave you the WORLD - our Elders!
They're our firmest Believers, Motivators & Supporters - at every point in our lives
During the season of giving, why not remind your elder relatives of just how much they mean to you, with something they'd appreciate?!
This is now closed
Deadline: Tuesday 10th November 2020.
Don't miss out on an opportunity to bring a smile on your elders faces this Diwali!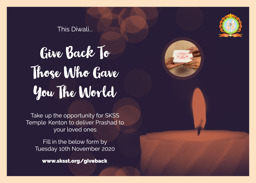 Gujrati School Notice
Jay Shree Swaminarayan,
Please note that the Gujarati School will be partially closing for standards Pre-Ankodi - Std 2 who will receive online teaching through a combination of pre-recorded lessons and worksheets. Further information in relation to this will be sent out over the weekend.
Std 3 - GCSE students should continue to attend physical classes.
We hope to be able to safely re-open the Gujarati School for all students in due course.
Thank you for your ongoing co-operation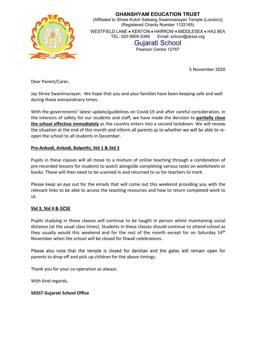 AGM Notice
Jay Shree Swaminarayan,
In light of the current COVID-19 global pandemic, please see the notice about postponing this years AGM at the Temple.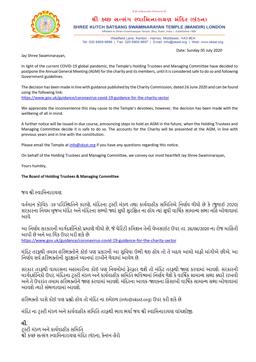 Donations
Jay Shree Swaminarayan,
We hope you and your families are keeping well and safe.
The Mandir is now open daily from 7AM - 11AM. Devotees are able to do thaal and obtain Prashad as normal in the kothar
You can also donate by transferring to the below account details:
Name: Shree Kutch Satsang Swaminarayan Temple London
Bank: Barclays
Sort code: 20-37-16
Account No: 30837822
If you are donating by transfer, please send an email to us with your full name and donor number/postcode to info@sksst.org so we can send you a receipt for your donation
Holi Utsav 2020
Jay Shree Swaminarayan,
In light of the current outbreak of the Coronavirus (COVID-19), the Managing Committee of the Temple has decided to cancel the planned event on Sunday 8th March 2020 at Woodcock Hill Park, to celebrate Holi, as a precautionary measure.
Whilst this decision has not been taken lightly, it has been done so in the interest of the health and wellbeing of all devotees and visitors (especially the elderly and vulnerable).
Please note that the Temple will remain open for Aarti, Darshan and Sabhas as normal, until further guidance is issued.
We will of course continue to monitor the situation and update the public as we receive more information.
We thank you for your understanding and apologise for any inconvenience caused.
Yours humbly,
Managing Committee
SKSS Temple (London), Kenton-Harrow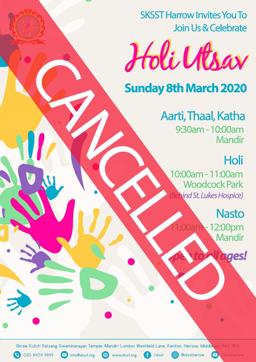 Pyjama Movie Night 2020 Full Capacity Reached
Jay Shree Swaminarayan,
THE FIRST KIDS EVENT OF 2020!
An all time classic film, delightful snack and comfortable clothing - what more do children need?
Our Pyjama Movie Night taking place on Saturday 29th February has 2 different time slots
Children aged 3-7 between 5:30pm and 7:00pm
Children aged 8-12 between 7:30pm and 9:30pm.
The booking link is now officially CLOSED. We've absolutely loved seeing all the enthusiasm surrounding our PJ Night Event! Thank you to everyone that's signed up. Can't wait to welcome you all on Saturday 29th February!
#KidsPyjamaNight #NightOut #MissItMissOut #SnuggleUp #sksst #sksstharrow
Please note, this event is for kids aged between 3 - 12 years only.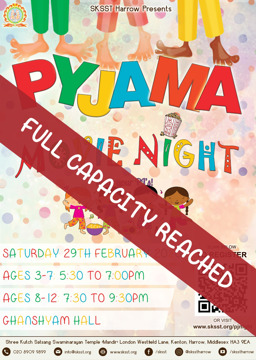 SKSST 23rd Patotsav
With the blessings of our beloved Maharaj, Shree Kutch Satsang Swaminarayan Temple (Mandir) London will be hosting a memorable event this year as it marks the 23rd anniversary of the Temple.
Join us for our 23rd Anniversary Celebrations. The event will be graced by learned Saints from Shree Swaminarayan Temple Bhuj, who will recite the holy scripture Vachnamrut. Katha commences on Thursday 26th December 2019, with Abhishek on Wednesday 1st January 2020 from 7:00am onwards and other programmes throughout the week... Click on the posters to find out more!.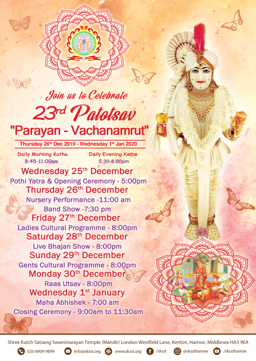 Singhasan Jirnordhar Mahotsav
Jay Shree Swaminarayan,
Following the Tatvagrahan pooja at the end of June, work is fully underway in the construction of Ghanshyam Maharaj's singhasan. A reinstallation of the murti will take place with the Punahpratistha ceremony on Sunday 28th July conducted by H.H 1008 Koshalendra Prasadji Maharaj and Bhuj Mandir Santos. In the lead up we also have a Bhajan show and Havan ceremony.