Swaminarayan Sampraday History
Learn the History of the Swaminarayan Sampraday
Shree Sahajanand Swami was born on the ninth night of the lunar month Chaitra of year Vikram Samvat 1837, (2nd April1781 A.D) on the auspicious occasion of Ramnavmi (the birthday of Lord Shree Ram) in a small village called Chhapaiya near Ayodhya in Uttar Pradesh,Northern India. His parents were called Dharmadev and Bhakimata. In accordance with Indian customs on the sixth day after birth he was given the name Ghanshyam. At the tender age of eight he started studying the Vedas (Hindu Scriptures) and in less than two years, he had mastered all the four Vedas, Upanishads and the Puranas a feat that would take an ordinary person many years to accomplish.
Ghanshyam's mother, Bhaktimata passed away when he was just 10 years and 7 months old, just after a further seven months his father also passed away. Ghanshyam had no desire for worldly things and decided to renounce his family. So at the tender age of 11 years 3 months and 1 day, he left home early in the morning on 10th day of the bright half of Ashadh in the year Vikram Samvat 1849 (29th June 1792 A.D). He took the name Nilkanth Varni as he embarked on his journey. He took with him Mala, Shaligram, spare dhoti, Kamdad, Marge Charm, scriptures, Bhramin thread, Palasdanda, his mission was to find an Ashram which practised the correct understanding of Hindu philosophies of Vedanta, Samkhya, Yoga and Pancaratra. Whilst traveling in the Himalayas, Nilkanth encountered over 900,000 yogis during his seven year journey Nilkanth learned the art of Ashtang Yoga (eight-fold yoga) in just nine months under the guidance of Gopal Yogi, an achievement which would take others twelve years to achieve.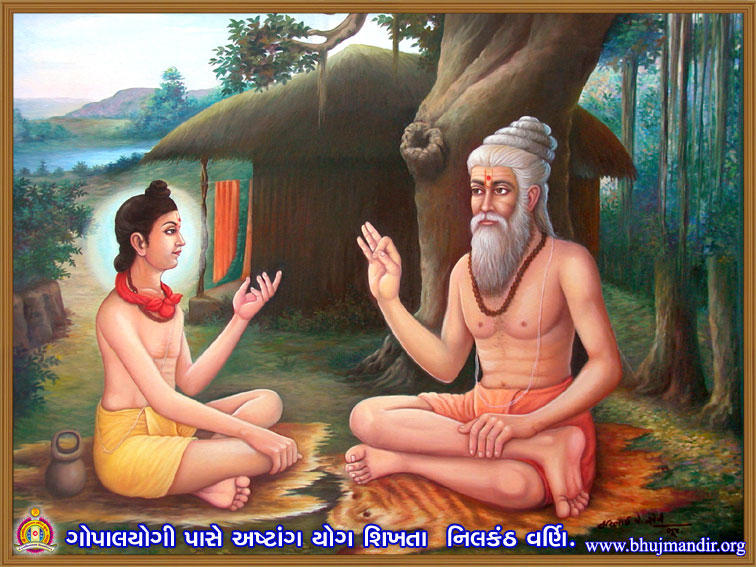 Nilkanth Varni
On his epic journey Ghanshyam took the name Nilkanth Varni. Varni means Bramchari. On his way to the Himalayas he met a number of saints. Ghanshyam was not concerned about walking bare footed on stony, hot or cold paths. He was not afraid of snakes or wild animals such as tigers. At times he had nothing to eat and even passed several days without drinking water. In the Himalayas one of the amazements that Nilkanth Varni caused was that at a particular moment 900,000 Yogis got his darshan.
During his travels Nilkanth Varni met a number of yogis. However, when he met a great yogi called Gopal Yogi he stayed with him for one year. The Yogi taught him Ashtang Yoga. Gopal Yogi was so pleased with Nilkanth he stated that his life's achievement was fulfilled by teaching Nilkanth.
After the death of Gopal Yogi, Nilkanth Varni headed east to a village near Kamakshidevi in Assam where he met a Mantracharya named Pibak. Pibak was known for his black magic. As Pibak had heard of Nilkanth's great adventures, he tried his utmost to intimidate and subdue him by means of various kinds of Abhicharprayoga
i.e. invoking evil spirits. Having showed his powers he ordered Nilkanth Varni to be his disciple and threatened to destroy him if he disobeyed. Nevertheless Nilkanth Varni instead of being afraid challenged him. Nilkanth Varni proved his superiority and eventually freed Pibak from the bonds of magical rituals. Nilkanth Varni initiated him to the path of bhakti. Nilkanth Varni then proceeded to Jagannath Puri. From there he entered Gujarat via Pandharpur, Pune and Nasik. After visiting places of pilgrimage at the banks of Narmada and Tapi rivers he came to Dakor. He then entered Saurashtra and proceeded to Dwarika.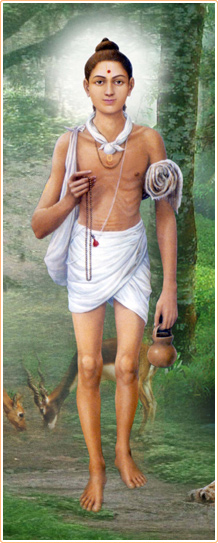 Ramanand Swami
At the age of 18 years and 4 months, Nilkanth finally arrived at Shree Ramanand Swami's Ashram in Lojpur a village near Junagadh. However at this time Ramanand Swami was in Kutch, so the chief disciple Muktanand Swami received him and requested him to stay at the Ashram. Nilkanth Varni agreed only on condition that Muktanand Swami first satisfactorily answered five questions.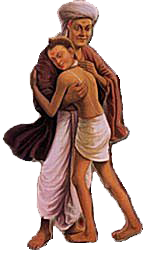 Question 1. What is Jiv (Soul)?
Question 2. What is Ishwar (The Personality of God)?
Question 3. What is Maya (The Lord's Internal Energy)?
Question 4. What is Brahma (Liberated Souls)?
Question 5. What is Para Brahma (Supreme Personality of Godhead)?
Having asked these questions many times during his journey, Nilkanth Varni was overjoyed with Muktanand Swami's answers. So much that in seven years of Nilkanth Varni's travelling no other saint had been able to answer them to his satisfaction. Nilkanth Varni stayed at the Ashram and cherished a keen desire to meet Muktanand Swami's Guru, Ramanand Swami. Adjoining the Ashram lived a family and there was hole in the wall from which sometimes the sadhus borrowed lighted coal to light their fire. Nilkanth Varni did not like this. He demanded that the hole be closed immediately and that the sadhus must avoid any contact with women. The demand was respected.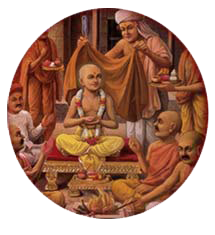 After several months of stay in Kutch, Ramanand Swami arrived at Piplana, a village in the state of Saurashtra. Nilkanth Varni went to meet him accompanied with Muktananad Swami. Later when Ramanand Swami returned to Lojpur. Nilkanth Varni stayed with him during which time he obtained Vaishnavi Diksha. He was now honored with the name of Sahajanand Swami alias Narayan Muni. A year later, on the 11th day of bright half of Kartik of Samvat year 1858, Ramanand Swami intiated Swami Sahajanand as Acharya and Guru of the Sampraday at Jetpur, a village in the Junagadh District. After the initiation ceremony, Sahajanand Swami asked Ramanand Swami for two boons.
They were, 'Protect the members of the fellowship of Swaminarayan Sampraday from any miseries. If there has to be misery, inflict it upon me many times over in order that devotees of the Sampraday are saved. May the followers of the Sampraday never suffer from want of food and clothing'. Ramanand Swami said, 'May your desire be fulfilled'. Within a month after this, Ramanand Swami passed away.
Samadhi
People of all castes and creeds attended the religious meetings of Shree Sahajanand Swami. Some were even Muslims who believed in Allah. While listening to Maharaj they were sent into deep trance (samadhi) where they saw visions of their own Gods. Some saw Rama, some Ganesh, some Krishna, some Shiva, and some Allah. When they awoke some said they had been to Akshar Dham, i.e. heaven, where they saw the same Sahajanand Swami in great glory. Some saw other Muktus as participants in meetings in heaven.
Shikharbandh Temples
During the last decade of His DharmaShasan Lord Swaminarayan established beautiful, big temples at six places. First at Ahmedabad in Samvat year 1878, then at Bhuj in Samvat year 1879, then at Vadtal in Samvat year 1881, then at Dholera in Samvat year 1882, then at Junagadh in Samvat year 1884, then at Gadhada in Samvat year 1885.
In establishing the temples, Lord Swaminarayan practically demonstrated His unique theory of Ekeshwarvad i.e. Monotheism. He emphatically said that Deities may be named and known as Shri NarNarayan, Shri Laxmi-Narayan, Shri RadhaKrishna but they are all the forms of God Supreme, Lord Shree Swaminarayan. One therefore, should not draw any distinction between them. He therefore, established the Deities of NarNarayan Dev in Ahmedabad and Bhuj and of Shri LaxmiNarayan Dev in Vadtal and of Shri MadanMohan Dev in Dholera, of Shri RadhaRaman Dev in Junagadh and of Shri Gopinath Dev in Gadhada. To further illustrate His doctrine of Ekeshwarvad, He also installed the Deities of Shiv and Parvati at Junagadh and at Gadhada, the Deity of SuryaNarayan (Sun), along with the other Deities. In all other small temples i.e. Hari Mandirs, ChitraPratima i.e. paintings of Lord Swaminarayan Himself or together with that of Shri Dharmadev and Shri Bhaktidevi are installed.
Religious Scriptures
Lord Swaminarayan has not only built temples but also encouraged the study of religious scriptures. Commentaries were written on Gita, Upanishads and Bhagwad. Great many poems (Kirtans) were composed by poets like Nishkulanand Swami, Bhramanand Swami, Premanand Swami, Muktanand Swami and Devanand Swami. Great many books (shastras) were written by saints like Satanand Swami, Nityanand Swami etc.
Shikshapatri
Lord Swaminarayan Himself wrote a small book called Shikshapatri and told his devotees (satsangis) to act according to the 212 rules in the Shikshapatri. Some of the commandments in the Shikshapatri are as follows:
No one should kill any living creature, not even in the name of yagna (sacrifice)
No one should commit suicide.
No one should eat meat or drink alcoholic drinks.
No one should steal, even for benevolent purposes.
No one should gamble.
No one should commit adultery.
No one should take bribe.
A guest should always be welcomed and should be entertained.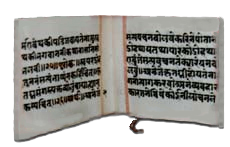 British Governor
On 20th February 1830 Lord Swaminarayan went to visit the British Governor of Bombay, Sir John Malcolm, in Rajkot. He was received with a guard of honour by the infantry and the cavalry. The Governor himself received Lord Swaminarayan and offered him a royal chair. He then presented him with a shawl, in return Lord Swaminarayan presented the Governor with a Shikshapatri. While departing the Governor asked for his blessings and Lord Swaminarayan said, 'God will surely bless those who aspire to do good even to the enemies.'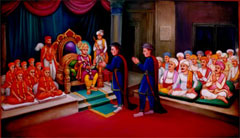 Lord Swaminarayan's Eternal Departure
On the 10th day of bright half of Jeth of Samvat year 1856 (Jeth is the last i.e. 12th month of the year 1886) Lord Swaminarayan gathered all the leading Tyagis and Grahasthas before him at Gadhada. With a very calm and serene tone He said to them, "I have fully realized my mission i.e. avatar Karya and have established a royal path by following which one can easily reach Akshar Dham, the abode of God Supreme. I, now wish to depart from this world. I promise you all that hence forward I will meet you all through my Deities established in the temples."
Today there are millions of followers of the Swaminarayan faith in all countries of the world. Sahjanand Swami's blessings that no follower of His, will ever be short of food or clothes still holds true.