Ghanshyam Nursery School
'Laying the foundations for life'
We strive to provide the highest quality childcare facilities and personnel for the social, personal, cultural and religious advancement of the child.
Ghanshyam Nursery School was established in 2001 after the temple purchased the Education Building with the aim to provide facilities to community including educational development.
We provide care and education for young children between the ages of 18 months to 5 years. English is spoken as the first language, with Gujarati being spoken as a second language.
We are Ofsted Registered (Number EY408297) and accept children from 18 months – 5 years.
Our hours of opening are 8:00am to 5:00pm and provide a mixture of warm vegetarian meals cooked on the premises.
The nursery is open for approximately 51 weeks of the year. We close for the Hindu New Year (Ankoot) for one day (if Mon-Fri) and for the period between Christmas and New Year.
The fees are payable monthly in advance and apply even when children are absent.
We are a member of the Early Years Partnership and offer Council funding, where available, for 3 & 4 year olds. We also accept Child Care Vouchers as part of salary sacrifice scheme from parents.
We aim to lay the foundations for life, giving young children the very best start. The school equipment and furniture has been purchased with the educational needs of the children in mind; such that they can develop and explore their environment according to ability and age. We offer a warm secure environment that allows each child to develop at their own pace. The outside equipped play area is an added attraction.
The Board of Governors, manages the school under the guidance of the Temple Trustees and the Managing Committee and are elected by the Temple Committee. They are responsible for managing the finances, managing the staff and ensure that the school implements policies, which help it to provide a high quality service. The curriculum provided by the school encompasses the following as laid out by the New EYFS framework (September 2021):
Personal, Social and Emotional Development
Communication and Language
Physical Development
Literacy
Maths
Understanding the world
Expressive Arts and Design
Please look at the information page for details of the EYFS Framework and the new statements for Early learning Goals (ELGs) – Early learning Goals and EYFS Developmental Matters pdf.
For further information or to arrange a visit contact the Nursery during office hours Tel. No. 020 8909 9389. Ex 1 Visiting times are 10.00am & 2.30pm by appointment only.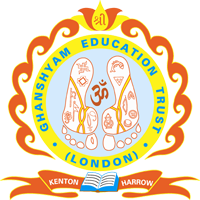 GHANSHYAM NURSERY SCHOOL
SKSS Temple
Westfield Lane, Kenton, Harrow, Middlesex, HA3 9EA
Tel / Fax: 020 8909 9389 Ext 1
Email: enquiries.gns@sksst.org
Ghanshyam Education Trust
Charity Nr 1122165
Registered in England No. 5854972
Company Limited by Guarantee